Strawberry Breakfast Bars
Thanks to Whole Foods Market for sponsoring this blog post! They make it easy for me to share fun new recipes with you and their summer supplement sale is coming up! 25% off all supplement August 2-4. You don't want to miss it!
Click HERE for more information on their sale as well as the info on some of their team members' favorite supplements!
M
y Strawberry Breakfast Bars are perfect this time of year when strawberries in season! Making a batch of grab-and-go bars like this means that I know I'm covered for a quick breakfast in the morning or a snack before spin.
I believe in packing as much nutrient-dense foods as I can into meals that I love. So, if I'm craving a banana berry smoothie, I'll also add some superfoods like coconut butter, chia seeds or turmeric. If I'm craving muffins, instead of just a plain blueberry I'll amp it up with a protein powder or hemp hearts.
Basically, I supplement a plain old recipe with more good stuff! Supplements aren't just pills and powders. They are powerful foods that are generally a good source of a specific nutrient. For example, turmeric is a food, but turmeric powder could be considered a spice or a supplement because of its amount of antioxidants!
I can get the supplements I need at Whole Foods Market. Everything from protein powders to probiotics and hemp, chia seeds, and vitamins! Whole Foods Market is having an amazing supplement sale August 2nd-4th. They are offering 25% off all of their supplements! I just went yesterday to stock up on everything!!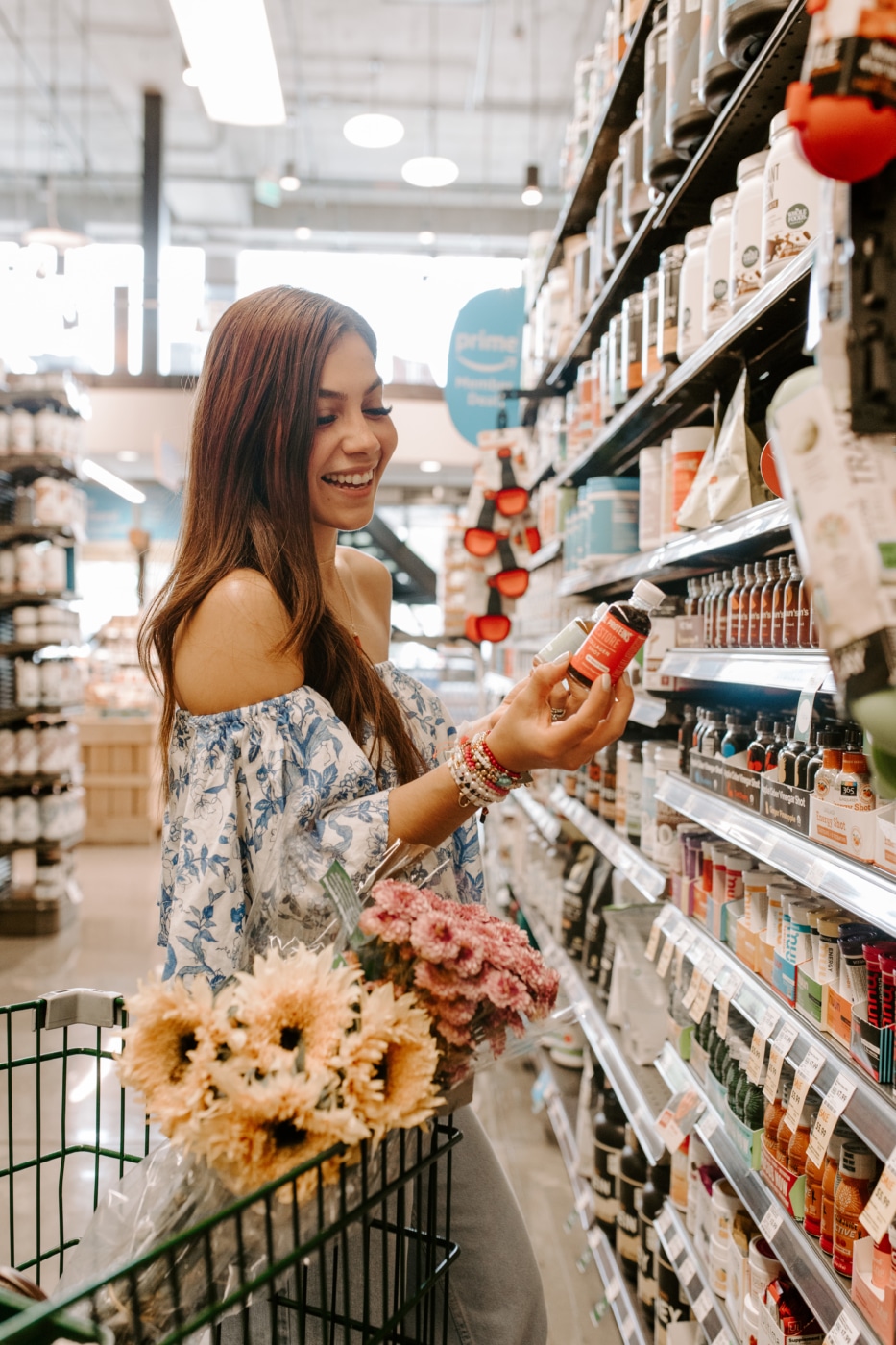 So, back to the strawberry bars! In the case of my Strawberry Breakfast Bars I'm supplementing a standard bar with Chia Seeds and Manitoba Harvest Hemp Hearts! Let me tell you about these supplements:
Manitoba Harvest Hemp Foods is one of the world's largest hemp manufacturer that grows, makes and sells their own product line. Their hemp hearts are a loved in our household! As for sustainability they are a B certified corporation. Hemp hearts are great in oatmeal, a smoothie, or even on top of your salad or guacamole. You can also find them in the crust of this strawberry bar recipe!
Chia seeds are known for their omega-3 fatty acid content. Omega-3 fatty acids are found in walnuts, salmon and chia and have been proven to be anti-inflammatory compared to their Omega-6 counterparts, which are the fatty acids found in sunflower, safflower and canola oil for example!1 Also fun fact: chia is a Mayan word for 'strength'! Chia seeds also have protein and fiber!
So now that we have two powerhouse foods supplements in our bars, let's get to the recipe!
How to Make Strawberry Breakfast Bars
Ingredients Crust & Topping
1 ½ cups rolled oats
2 ½ cups finely ground almond meal
1⁄4 cup Manitoba Harvest Hemp hearts
1 tablespoon unsweetened almond milk
1/4 cup softened coconut oil (but not melted)
1/4 cup maple syrup (or honey)
1 teaspoon vanilla extract
1/8 teaspoon salt
1 tablespoon coconut sugar (or brown sugar)
Strawberry Filling
3 cups fresh strawberries
1/4 cup lemon juice
2 tbsp chia seeds
zest from one lemon
1/3 cup maple syrup (or honey)
2 tablespoons tapioca flour
pinch of salt
Directions
First up… The Crust
Before you get going, preheat your oven to 350°F. Stir together the ingredients for the crust and crumble (almond meal, oats, hemp hearts, almond milk, coconut oil, maple syrup, vanilla, salt). Make sure your coconut oil is at least at room temperature so that it's soft but not totally liquid! This will help mold your crust.
Take about 2⁄3 of the mixture and press it into the bottom of a parchment lined 8×8 baking pan. You'll save the other 1⁄3 for crumble. Bake that crust for 10 minutes in the oven then set aside to cool!
Meanwhile… Prep the Strawberries
Dice up 3 cups worth of strawberries and add to a saucepan on medium with the lemon juice, zest, chia seeds, maple syrup and salt. Bring the strawberry mixture to a boil. For the next 20 minutes you will stir gently every so often to help breakdown the strawberries and create a substance that is more like a jam. At the 20-minute mark add the tapioca flour to really help thicken the mixture it will become super sticky.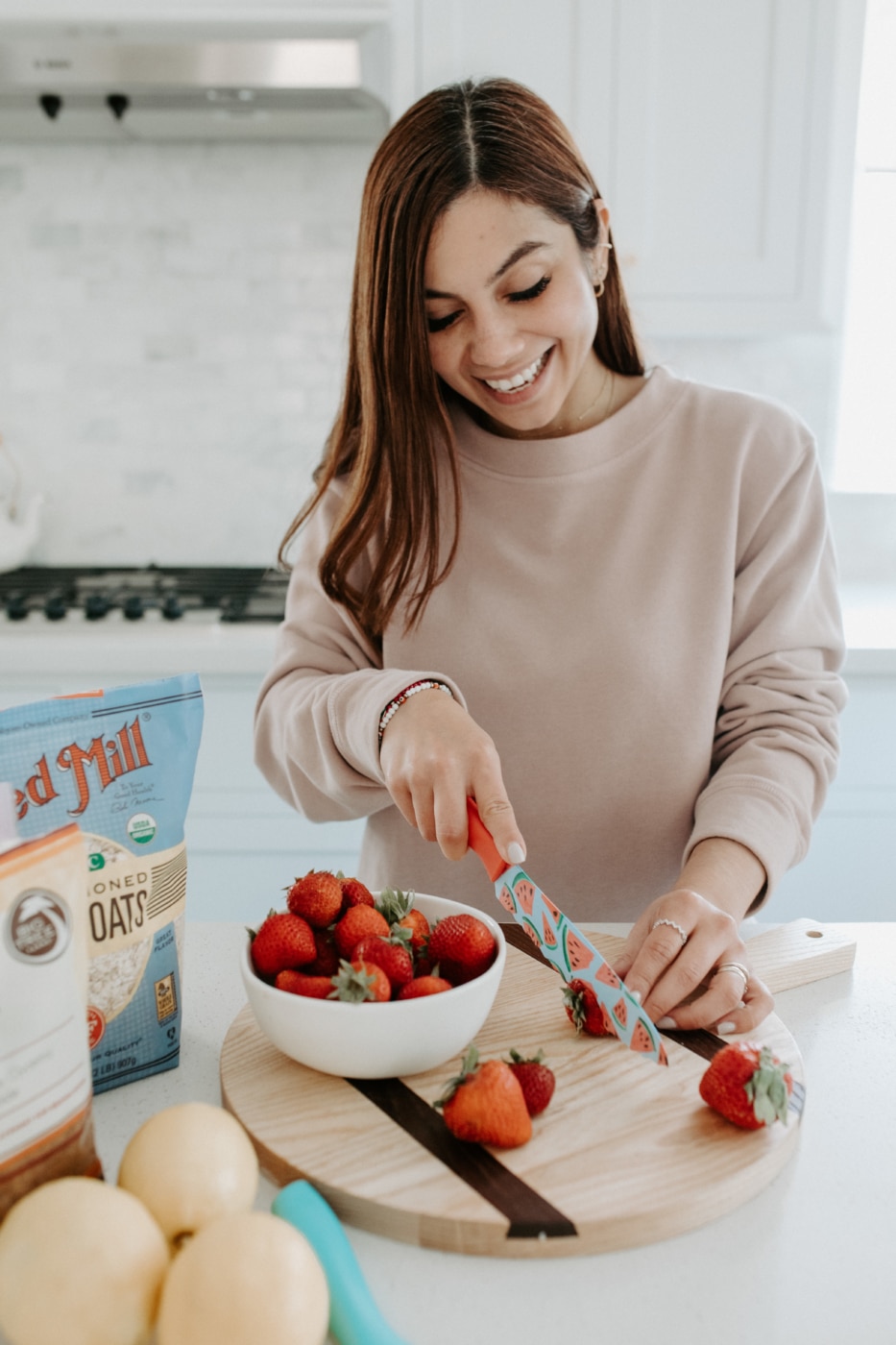 Bake and Cool
Once it's sticky and thick, it's ready! Pour it onto your crust and spread over the base. Then add your remaining 1⁄3 of crumble and sprinkle with coconut sugar or brown sugar. It will be looking and smelling SO good at the point but be patient! Put your bars back in the oven for 20 minutes and then let cool in the fridge for at least 2 hours before serving.
Voila!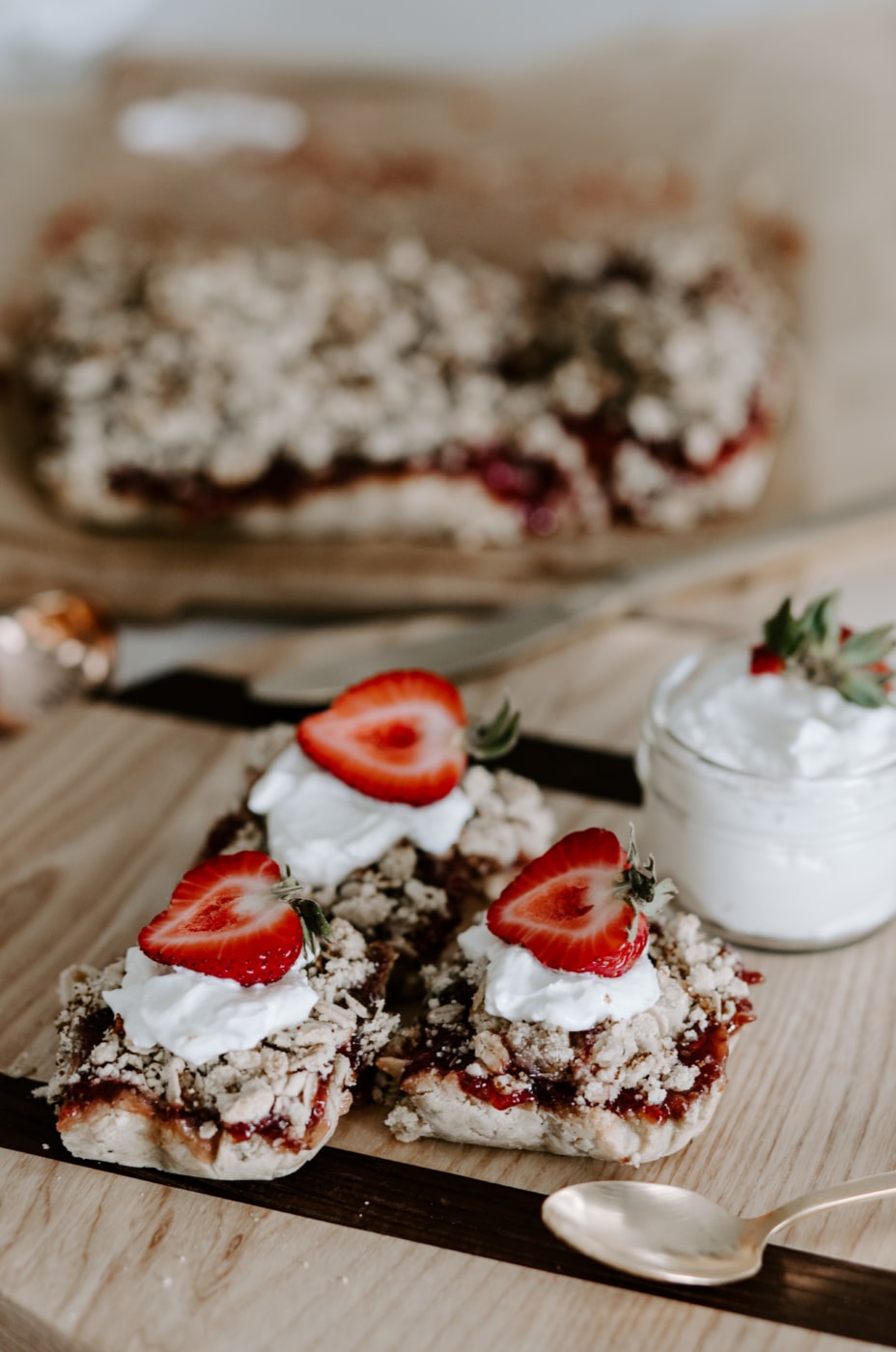 1 de Roos B, Geelen A, Ross K, et al Identification of potential serum biomarkers of inflammation and lipid modulation that are altered by fish oil supplementation in healthy volunteers. Proteomics 2008;8:1965–74.doi:10.1002/pmic. 200700457