Simple, Easy, Homemade Granola
I
love quick and easy homemade recipes that go further than just one meal! Granola is great on top of yogurt parfaits or smoothie bowls, chia seed pudding, even just mixed with chopped fruit for a little added crunch! This recipe is so simple and quick to throw together, you'll be in and out of the kitchen in an hour.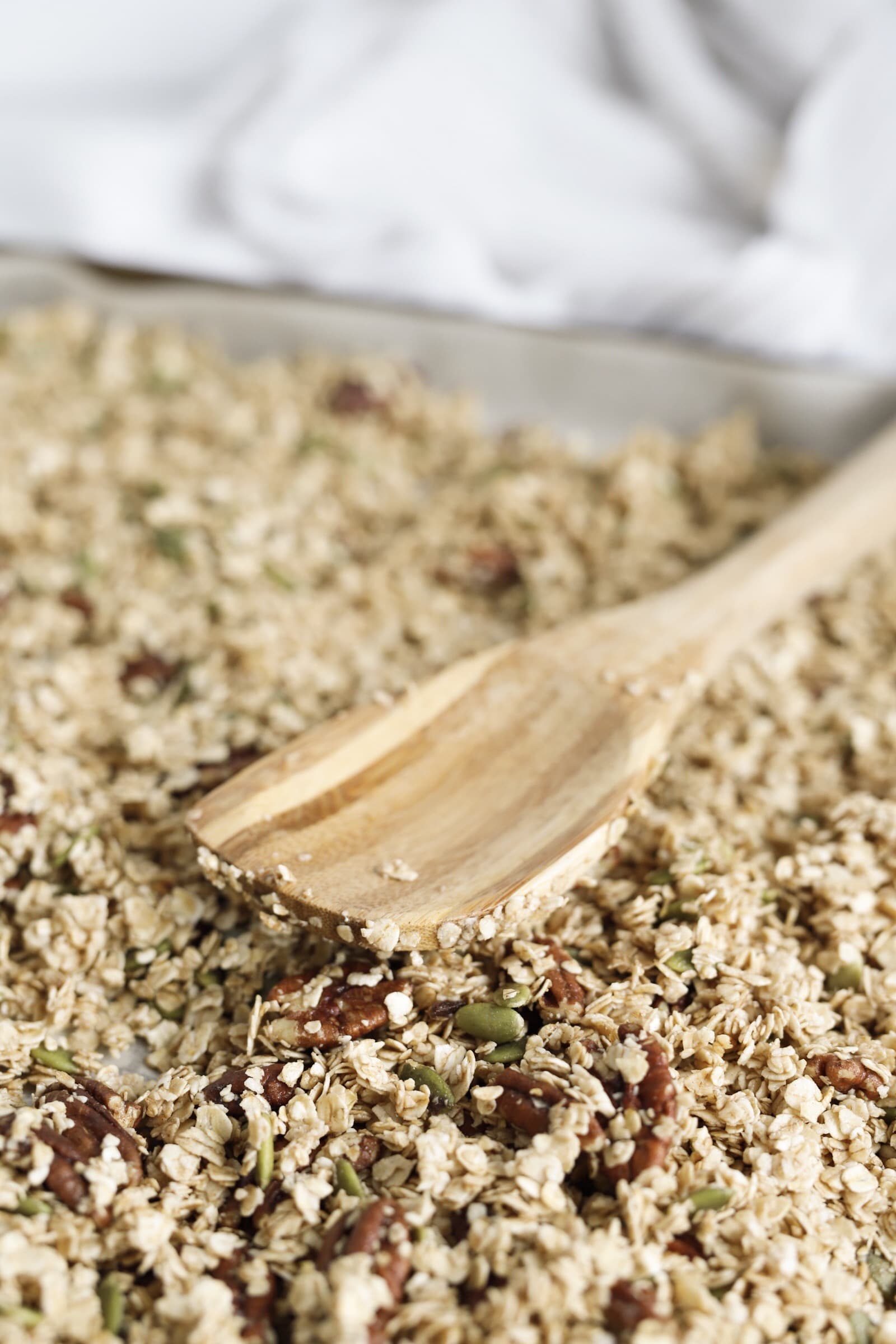 One great thing about the main ingredient oats is that they are actually gluten-free! The oat plant itself does not have gluten however most oats do contain traces of gluten from contamination with wheat which is often processed in the same facility or grown nearby the oat field. If you have celiac disease you will need to buy gluten-free certified oats, if not then regular oats are great!
Oats also have a pretty high about of protein in them and are also high in beta-glucan fibre which has been studied as a heart-healthy molecule which aids in lowering cholesterol. Oat is also high in B vitamins!
The nuts and coconut oil add a nice healthy fat element since most of the foods we pair granola with are generally low in fat!
PS. Don't skip on the salt! All granolas have a hint of sweet and salty, that's what gives it the signature flavour.
Are you ready to make this?!
Ingredients
4 cup rolled oats
1 cup pecans
1 cup pumpkin seeds
1 tsp cinnamon
½ tsp salt
1 tsp vanilla
½ cup melted coconut oil
½ cup maple syrup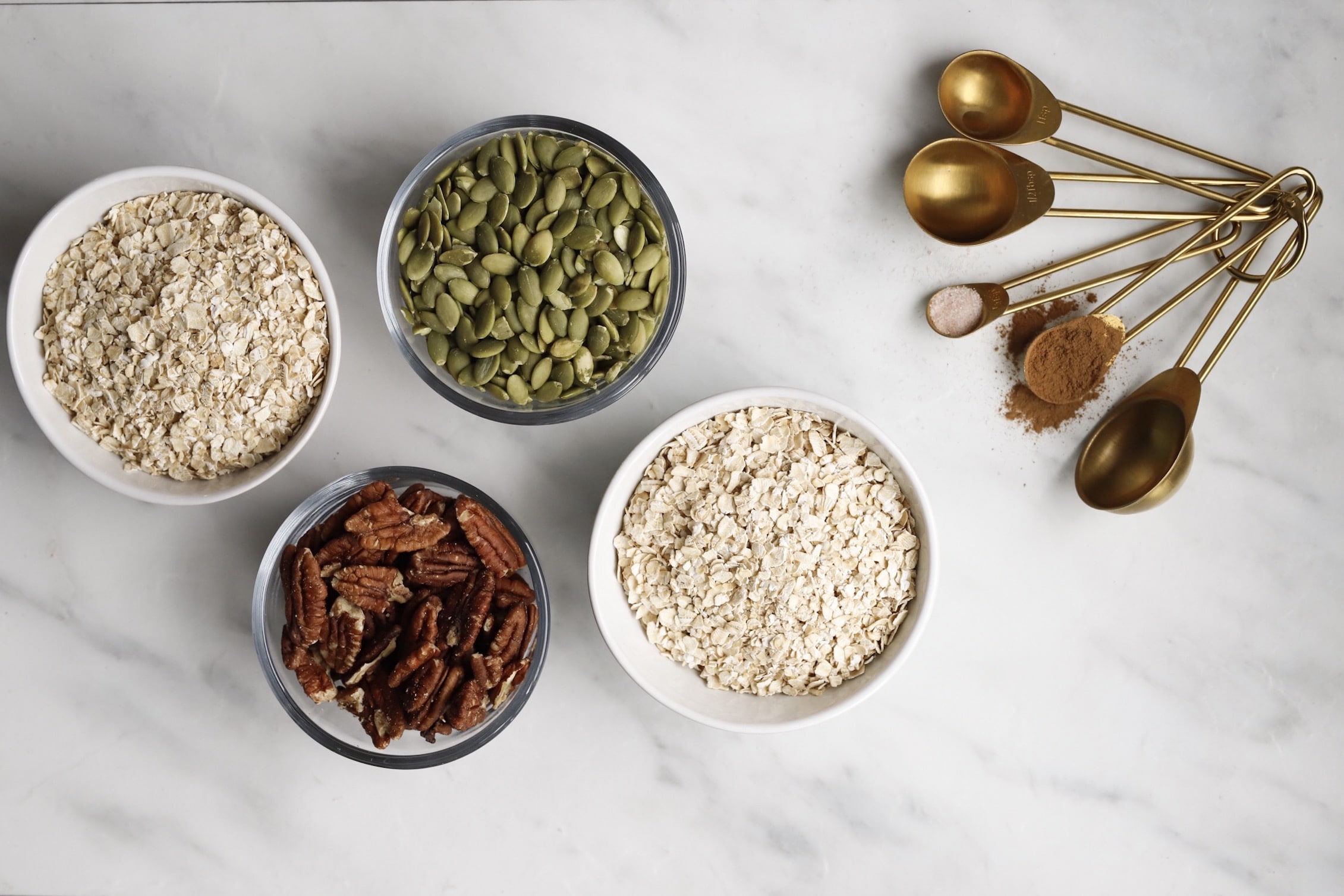 Directions
Preheat the oven to 350* F.

Mix together all dry ingredients in a bowl.

Add wet ingredients, make sure coconut oil is melted, and fold together so that all the oats are covered.

Spread mixture evenly over a pan lined with parchment paper.

Bake at 350 for 15 minutes, toss and bake for 15 minutes more.

Let cool for 45 minutes. Keep in a tight jar in the fridge for a few weeks!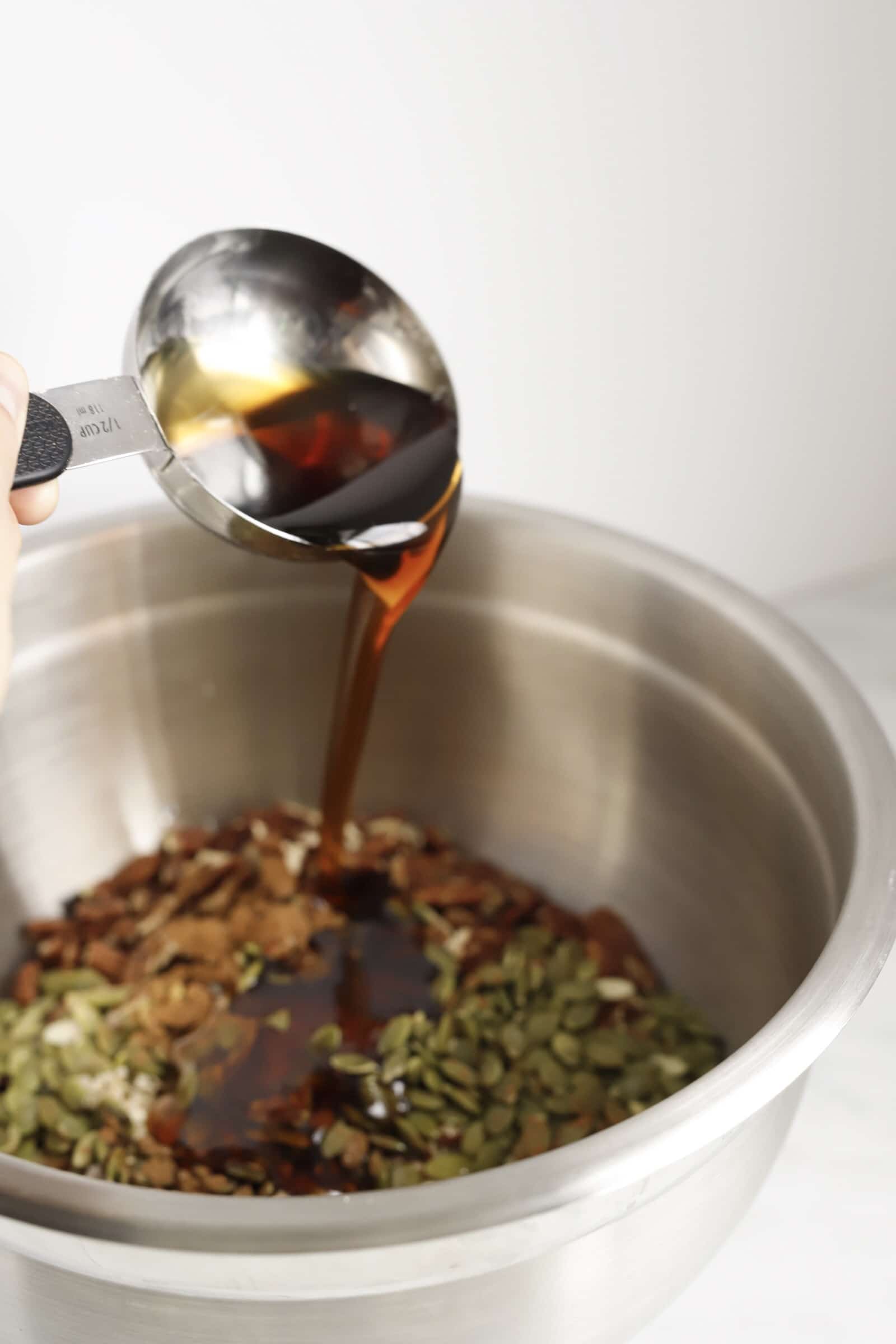 Macronutrient Breakdown
Total recipe makes about 5 ½ cups
1 serving = 3 tbsp
Carbohydrates: 17 grams
Fat: 8 grams
Protein: 4 grams
*Macronutrient Breakdown per serving