H
ello fam! This passed month has been crazy busy which means preparing some meals in advance is a must! I've always loved the idea of salads that you build into a jar so I decided to create my own!
This quinoa salad with chickpeas has a great amount of protein, plus lots of vitamins and minerals from the produce!
Quinoa is a really interesting grain! It's both gluten-free and high in protein (as far as grains go). We want to make sure we are rinsing the quinoa under cold water for at least 30 seconds before cooking. This rinses off something called saponins which can leave a bitter taste if the quinoa is not washed!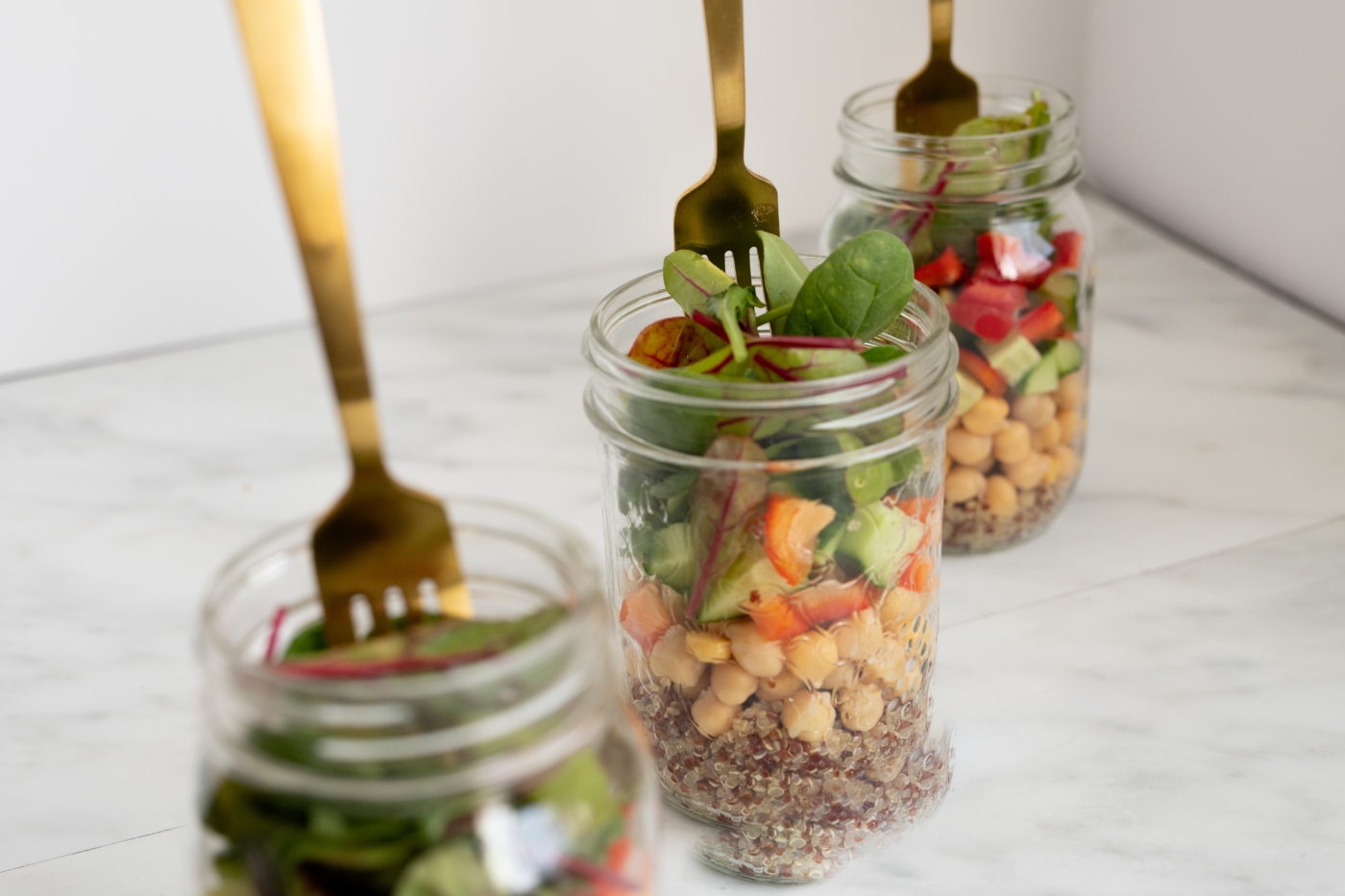 My quinoa jar salads recipe makes enough for about 4 servings! And I used 500mL jars :)
Ingredients
1 cup uncooked quinoa
1 cup canned chickpeas
1 cup diced cucumber
1 cup diced red pepper
1 cup mixed greens or lettuce
For dressing
1 small clove minced garlic
1/2 tbsp honey
¼ cup olive or avocado oil
3 tbsp cup balsamic vinegar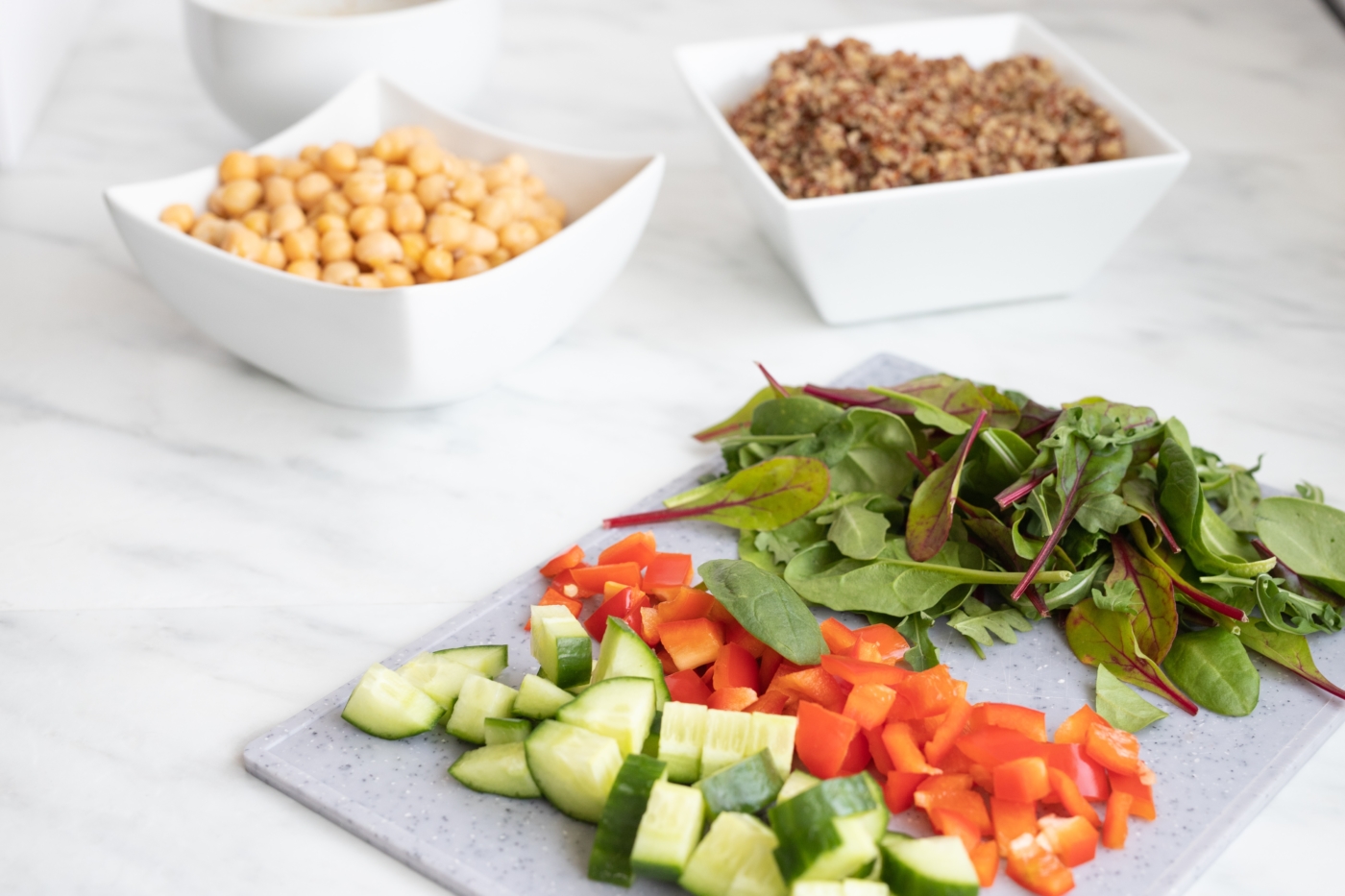 Directions
Prepare quinoa. Rinse the quinoa for 30 seconds under cold water. Stir 1 cup of quinoa into 1 ¼ cups of water and bring to a boil. Cover and reduce heat, let simmer for 15 minutes. Remove from heat and let sit another 5 minutes. *Let cool before assembling salads

Drain chickpeas. These don't need to be rinsed but you can rinse them!

Dice cucumber and red pepper.

Prepare the dressing. If your honey is solid you can heat it in a pan or microwave it to help it melt. Whisk together remaining ingredients.

Assemble salads into the jars!




½ cup cooked quinoa




¼ cup chickpeas




¼ cup diced cucumber




¼ cup diced pepper




¼ cup mixed greens

Store the dressing on the side! When you're ready to enjoy, pour the salad into a bowl or large Tupperware, top with 1 – ½ tbsp dressing and enjoy!

Option – add chicken to boost protein content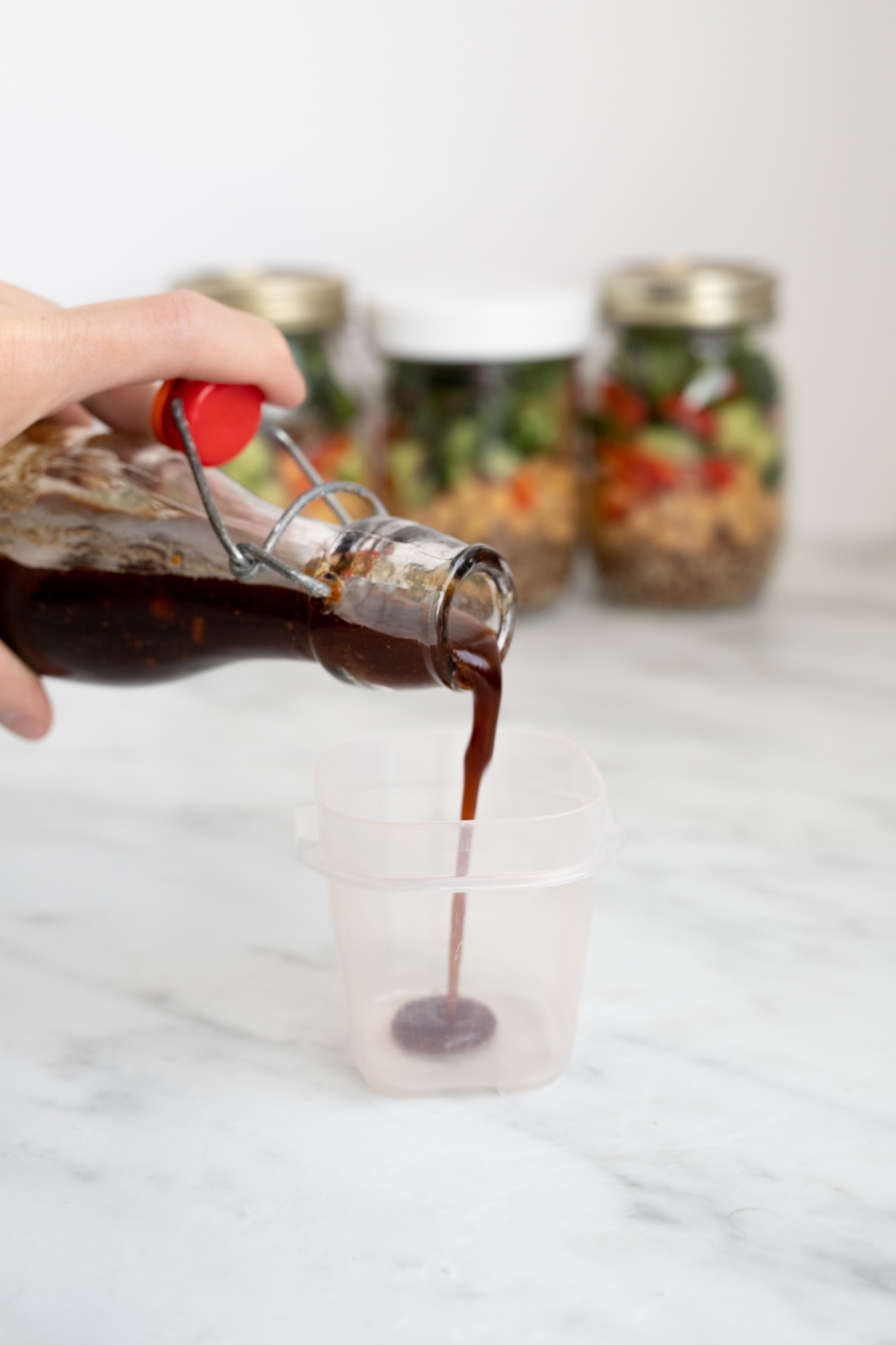 Macronutrient Breakdown
Salad Macronutrient Breakdown:
Carbohydrates: 39 grams.
Fat: 3 grams.
Protein: 10 grams
Dressing Macronutrient Breakdown (1 tbsp):
Carbohydrates: 2 grams.
Fat: 8 grams.