Fiesta Zucchini Boats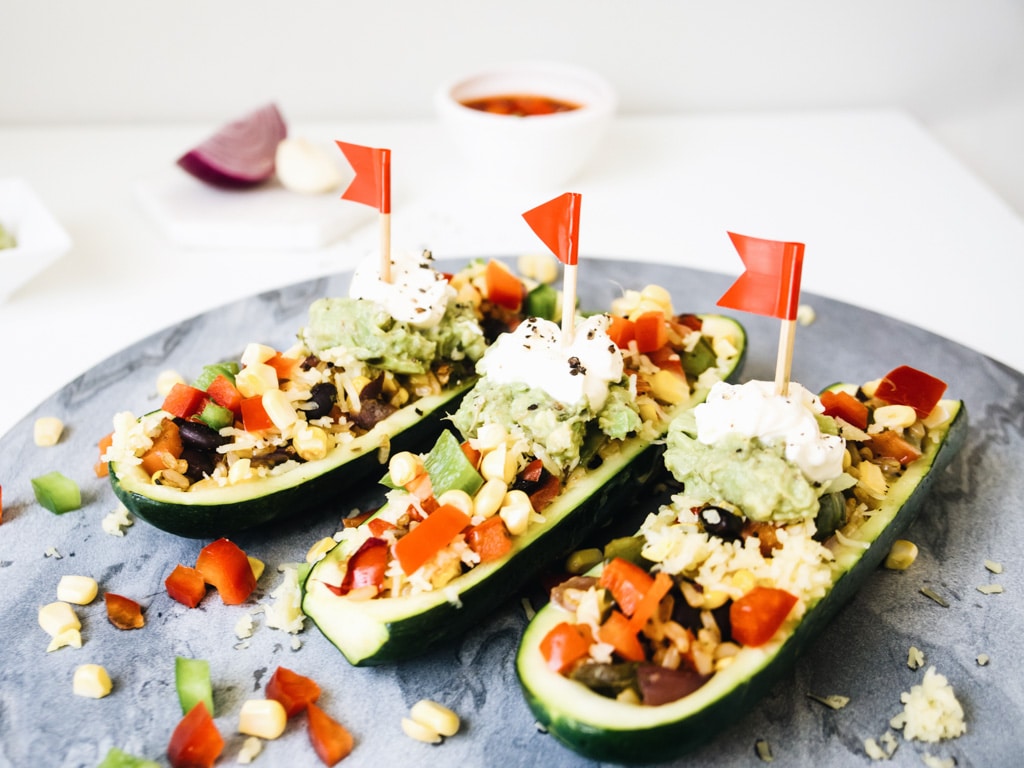 It's no secret that most of us have problems finding good and healthy recipes for dinner, especially when you're into counting macros.
That's why this time I'm sharing a fun and delish option that you can cook at night with only a handful of ingredients.
This zucchini boats recipe is also vegetarian-friendly and completely gluten-free. Are you ready?
Let's do this!
Note: feel free to change the servings, print the recipe or change the units of measurement… I've got you covered!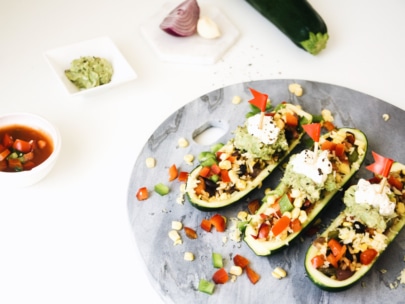 Fiesta Zucchini Boats
Gluten-free, Vegetarian, Nut-free
Ingredients
4

Zucchinis

1

Can

Black Beans

(drained and rinsed)

1

Cup

Brown Rice

(cooked)

1

Cup

Salsa

(your favorite)

1

Red Bell Pepper

(diced)

1/2

Red Onion

(diced)

1/2

Whole Kernel Corn

(rinsed)

1

Poblano Pepper

(diced)

1 1/2

Tbsp

Olive Oil

Handful

Fresh Cilantro

(chopped)

1

Cup

Shredded Cheese

(your favorite)
Spices:
2

Tsp

Cumin

1

Tsp

Chili Powder

Dash

Salt
Instructions
Preheat oven to 400°F and line a roasting pan with aluminum foil - set aside. Slice each zucchini in half lengthwise and using a metal spoon scoop out pulp leaving ½ inch shells.

Lightly brunch the top of the boats with olive oil and place them skin side down in the pan.


Separately, in a skillet over medium heat, add the tablespoon of olive oil and mix in red onion and peppers. Cook for 2-3 minutes. Then, add rice, corn, beans, salsa, salt, chili powder and cumin. Mix well and cook for 5-6 minutes. Add cilantro to taste and set aside.


Evenly spoon the mix on each zucchini. Sprinkle with cheese and cover roasting pan with foil.


Bake for 25 minutes. Remove the foil and broil for 5 more minutes so the cheese gets golden and yummy.


Garnish with fresh cilantro and serve!

Recipe Notes
Here's your Macros Breakdown. It's based on one (1) serving. If you want to know the macros for different servings, multiply the nutrition info by the number of servings.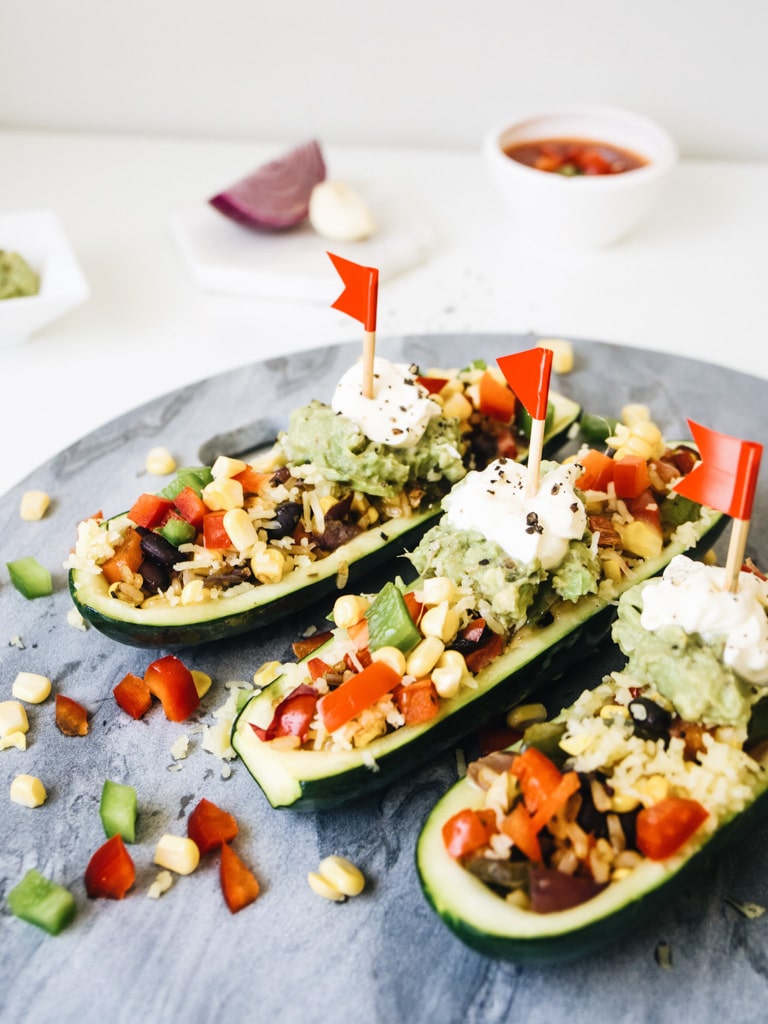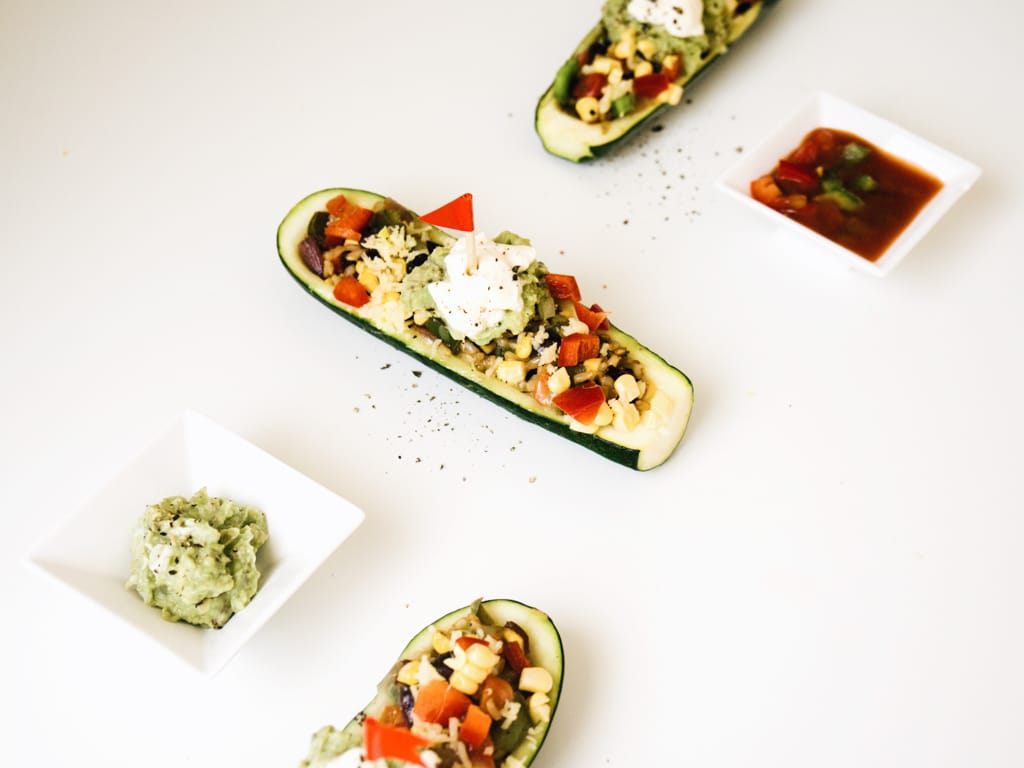 Are you going to try this healthy recipe? If so, I can't wait for you to share it with our #MacrosByPao family on Instagram.
And if you want more healthy and macro-friendly meals, make sure to download my Free Recipe guide (if you haven't done so). It's full of healthy recipes for breakfast, lunch, dinner, and it even has some desserts to indulge your sweet tooth!
See you next week with another healthy and tasty recipe.
Love,

Free Yummy Recipes
Get my go-to recipes for busy weeks, complete with macros breakdowns for everyone.