My 5 Go-To Supplements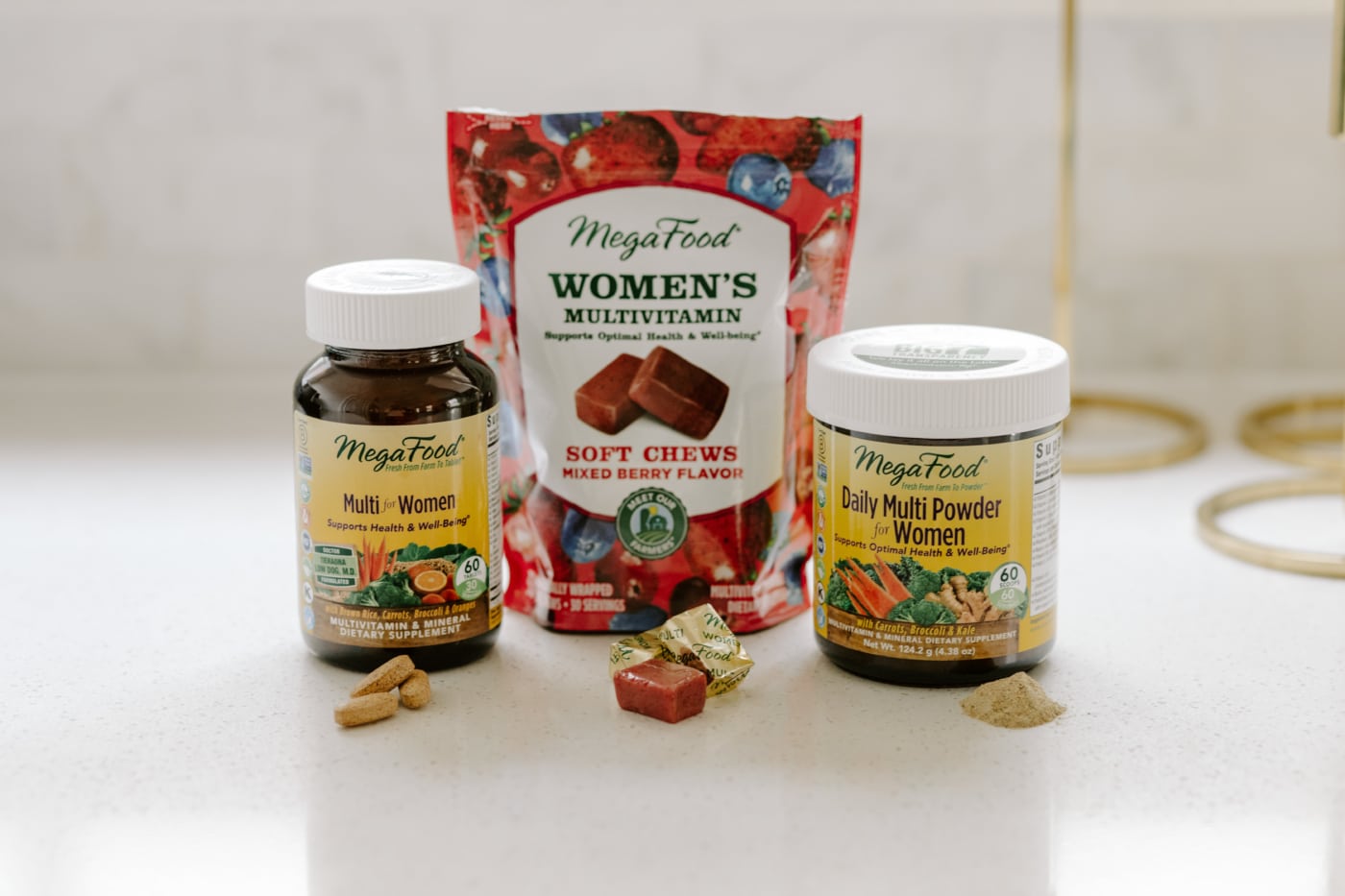 This post is sponsored by MegaFood. All opinions are completely my own based on my experience.
I
t seems like there's an endless amount of information on the internet about which supplements you "should" be taking, which are the best for individual nutritional needs and all the ones you "NEED TO BE TAKING EVERYDAY." Without a doctor, naturopath and nutritionist by our side 24/7 it can be really hard to make any health decision with confidence.
Do we need supplements?
In today's modern world it can be really difficult to meet all of our nutritional needs, especially when looking at individual nutrients. For example, unless you are eating 5-7 servings of fruits and vegetables every day, you may not be getting enough vitamins.
FYI
1 serving of vegetables = ½ cup raw/cooked vegetable or 1 cup of leafy greens
1 serving fruit = usually ½ – 1 piece of fruit, or ½ cup of diced fruit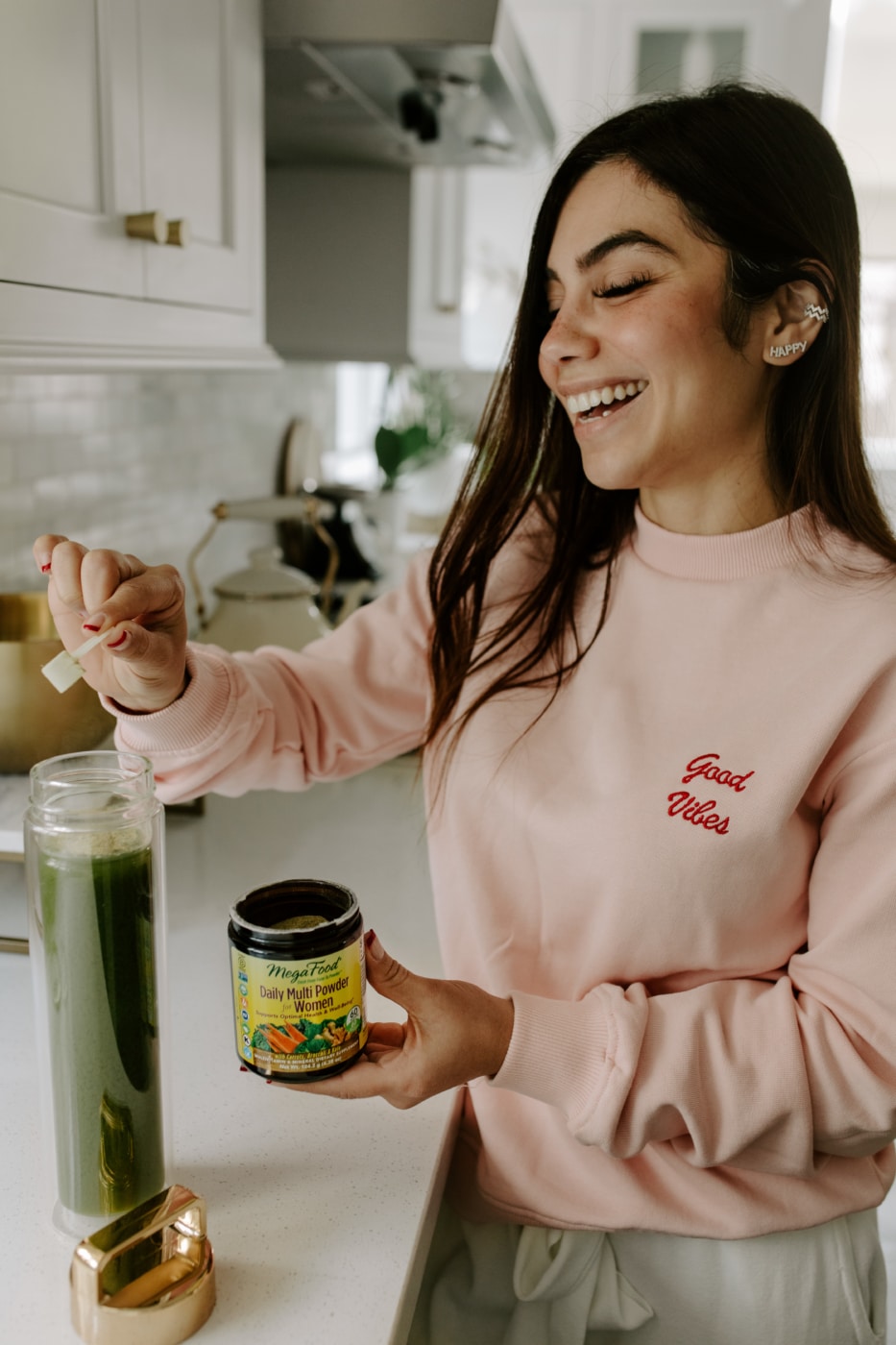 Ideally, we should be incorporating 2 servings of fruit and 3 servings of vegetables in our diets every day, at minimum. Some research even suggests that we should be getting close to 10 servings a day! Are you hitting this mark? I'm guilty of not! Eek.
I believe in taking quality supplements. In this blog I'm going to break down exactly what supplements I take daily, what the main benefits are, and my go-to multivitamin brand that covers all the bases when it comes to choosing a multivitamin for women! (hint MegaFood®, they make premium supplements crafted with real food, added nutrients and are obsessed with quality).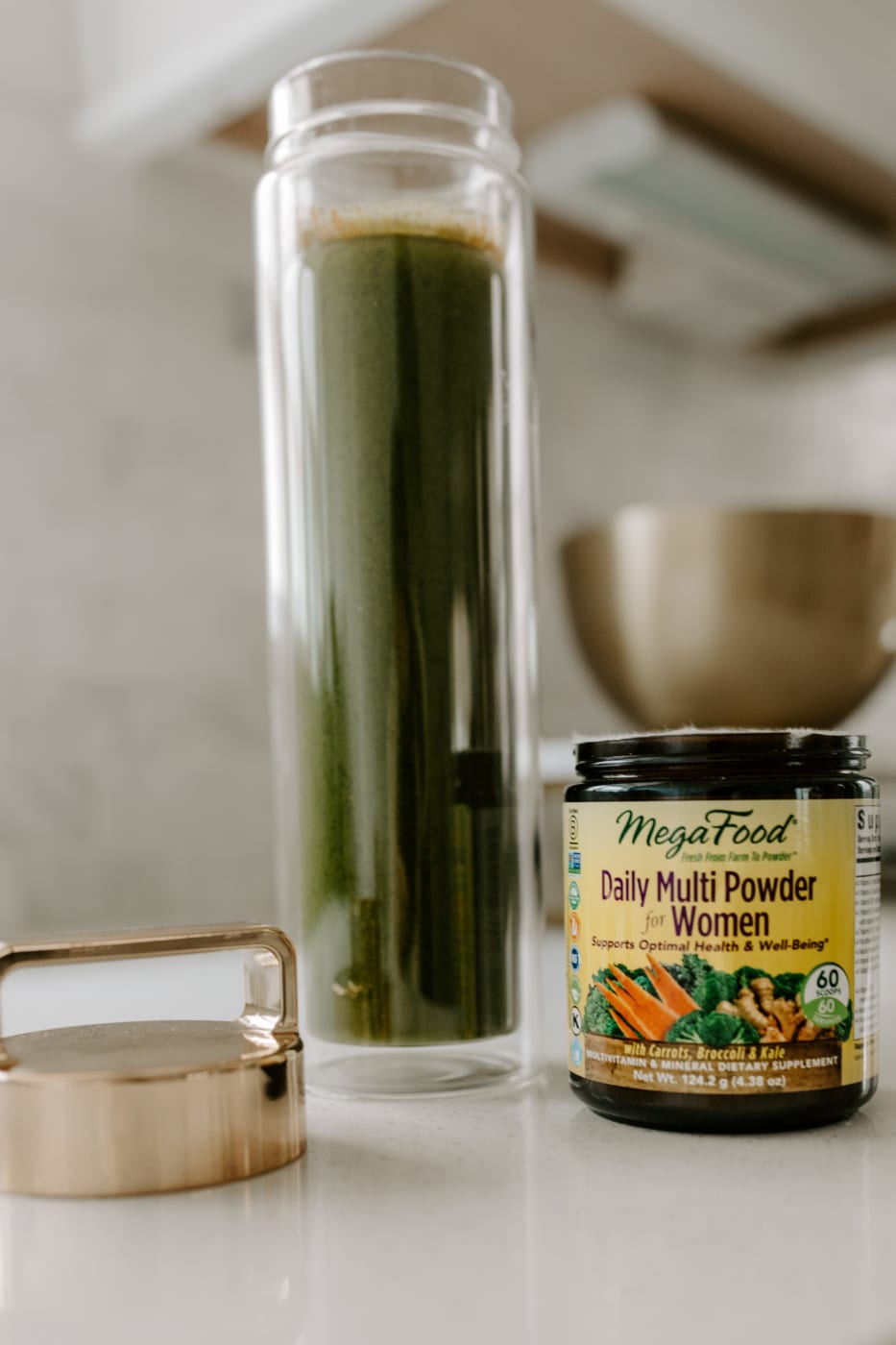 My 5 Go-To Supplements to Support Overall Health*
Ceremonial Grade Matcha
If you follow along on stories you know I LOOOOOVE my matcha. Matcha is essentially powdered green tea leaves and is incredibly high in antioxidants and chlorophyll. Fun fact: it can enhance mood and aid in concentration. Matcha also has a slow release caffeine which provides a slight boost in energy without the crash you might experience from coffee. I love including the nice slowww preparation of matcha in my morning routine, but may also enjoy it in the afternoon!
MegaFood Multivitamins for Women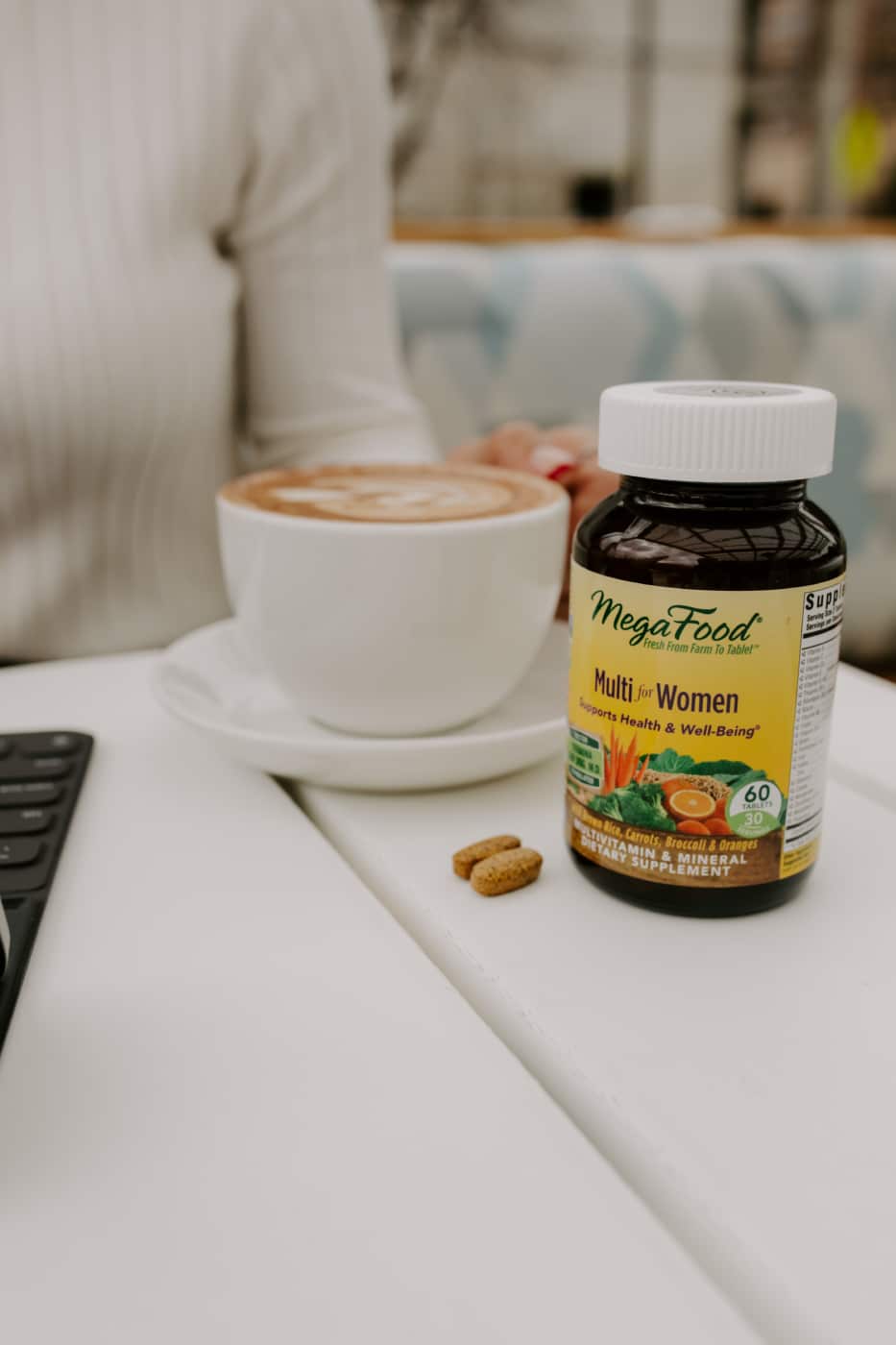 You definitely won't see me letting a day pass without taking a multivitamin. While I consider myself very health conscious, it can be difficult to get the right amount of nutrients on the daily, plus getting enough iron as a woman is always a struggle, which is why I take a multivitamin. Having a good multi in my routine gives me the confidence to know that I'm covered even if I don't hit all my food groups for the day. I take MegaFood Multi for Women multivitamin because they use real food from trusted farm partners, plus added vitamins and minerals.MegaFood Multi for Women multivitamin is formulated by award-winning medical physician, Tieraona Low Dog, M.D., and is crafted with a blend of nutrients that support normal hormonal fluctuations like vitamin D, folic acid, and iron.* MegaFood has really considered what women actually need in order to intentionally create really premium supplements! I love putting something in my body that I know is actually affecting me positively.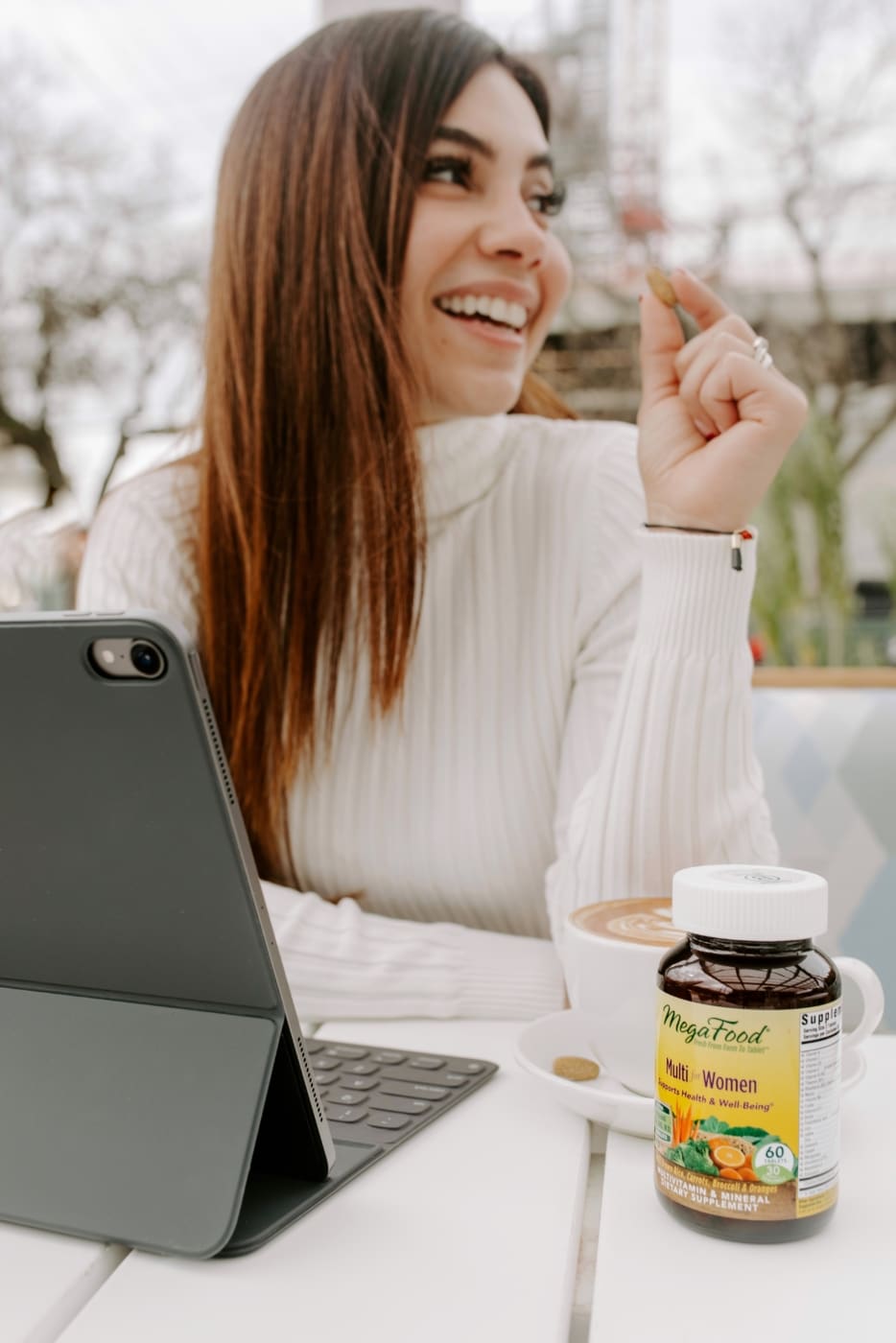 MegaFood makes it easy and convenient for women to take a multivitamin with 3 different delivery forms – tablet, powder and soft chews! With so many different options, you could mix the Daily Multi Powder for Women into your smoothie, or simply take your Multi for Women with a big glass of water after lunch, or enjoy your Women's Multivitamin Mixed Berry Soft Chews as a delicious treat after dinner.Having 3 different forms of multivitamins for women makes MegaFood supplements accessible for everyone no matter what form you prefer. Also, I love their tag line, "You rule the world, shouldn't your multivitamin do the same?" Heck ya!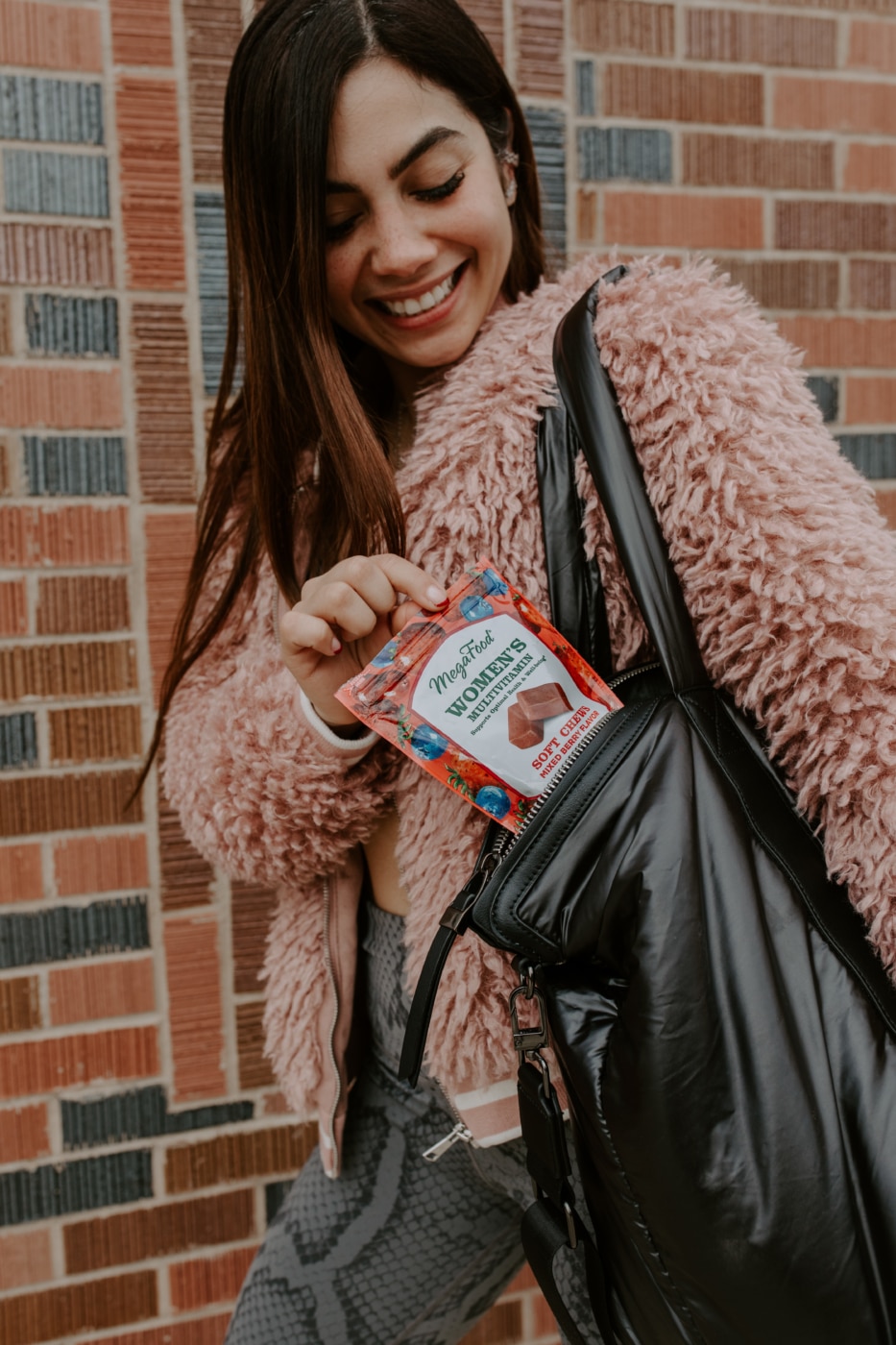 Protein Powder
Since I started learning about nutrition, fitness and counting macros, I realized that protein is usually the hardest macronutrient to hit and is often unintentionally replaced with a high carbohydrate intake. In order to make sure I'm getting enough protein and not displacing these calories with carbs I use a protein supplement. Generally I'm mixing 20g of protein into my smoothie post-gym! But I might take it at breakfast as well, or maybe I'll make a smoothie for dinner if I'm being lazy. SHH! It doesn't matter what time of day you take a protein supplement just remember that it is a ~100-120 calorie contribution to your daily intake.
Turmeric
Maybe you've heard of turmeric, sometimes also called curcuma. Turmeric is a root plant that looks similar to ginger. The inside is a beautiful, deep orange color and curcumin is the beneficial chemical-compound found within the root. Because turmeric powder is simply a whole food, I love taking it in capsule or tablet form as opposed to having to blend it into a smoothie or make a turmeric latte because the flavor is pretty potent. This is just a personal preference but of course you can use the powder to cook, blend or drink as well! MegaFood has some great Turmeric Strength™ for Whole Body tablets that are a great fix for the flavor element here as well!
Pro Tip: Find a turmeric supplement that has black pepper as one of the ingredients. Black pepper makes absorption of turmeric much more effective!*
Probiotic
Taking a probiotic wasn't on my radar until the last few years. I mean eating bacteria? Ew! Probiotics are dormant bacteria which, when ingested, can colonize in grow in our gut. Don't get grossed out – it's actually super beneficial! We are born with a gut FULL of healthy bacteria but over time the bacteria can get wiped out due to antibiotics,diet and lifestyle. Restoring the gut bacteria can be beneficial in supporting whole body health.* Needless to say probiotics are foundational! It's best to take a probiotic first thing in the morning on an empty stomach. I keep mine in the fridge (most require refrigeration) and take it with a glass of water first thing in the AM!
I love the energy, antioxidants and health support I get from my supplement routine. What's in yours? Are you going to add something new now? ;)
*These statements have not been evaluated by the Food and Drug Administration. This product is not intended to diagnose, treat, cure or prevent any disease.