My 2-Month Eye Cream Experiment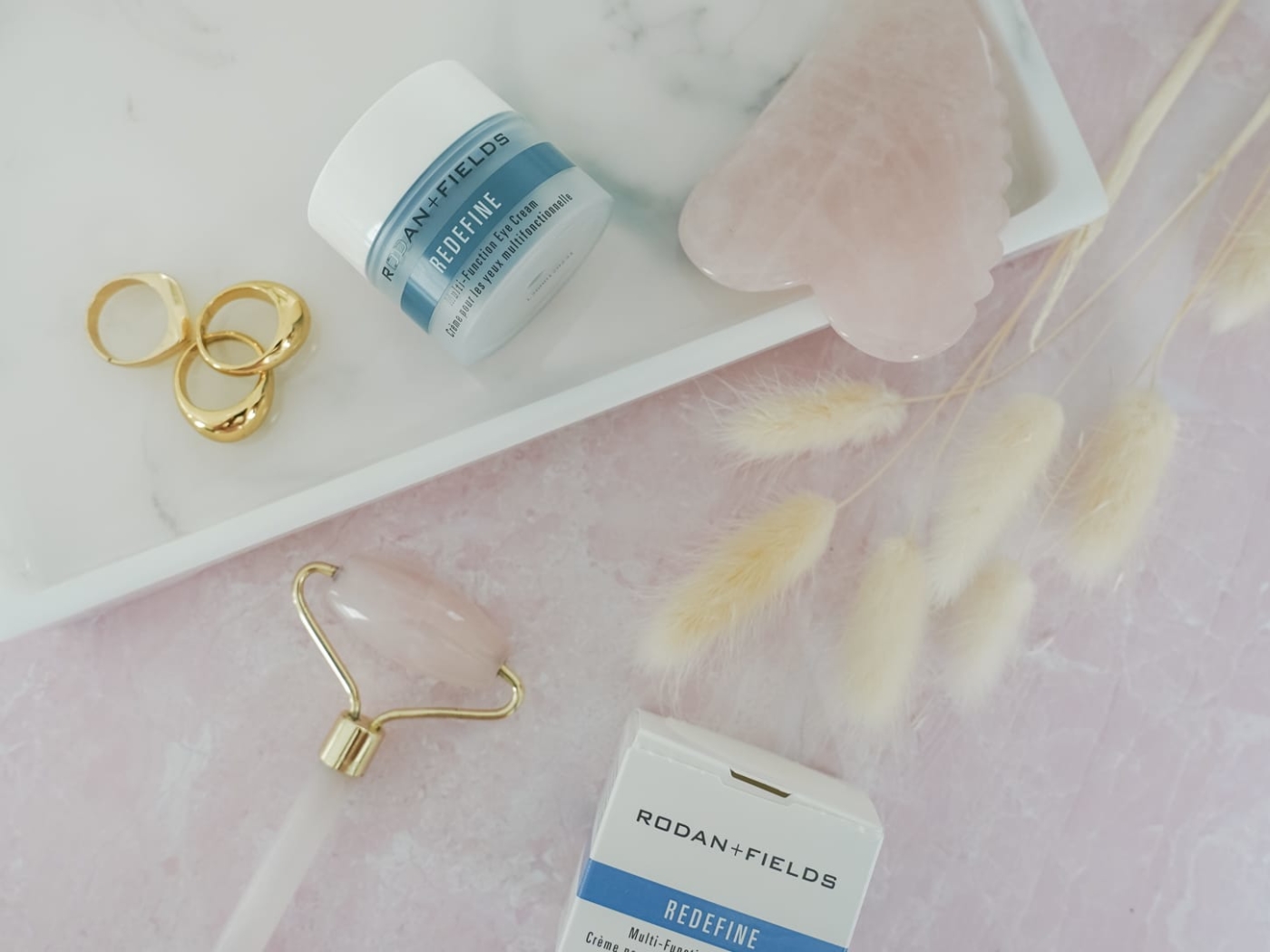 Thanks to Rodan + Fields for sponsoring this post. All opinions are my own.
N
ow that I'm in my 30s, Shh don't tell anyone, I've been taking preventative skincare more seriously than ever. After all, if you love the skin, you're in you'll feel more confident and I think because of that alone investing in skincare and treatments is worth it!
The area of your beautiful face that shows signs of aging first is actually the eyes. We have the charming laugh lines (crow's feet) and under-eye wear and puffiness as well. The skin under our eyes is super thin from rubbing or applying makeup daily there is some unavoidable damage that will occur over time. With that being said I've been on the look for a perfect eye cream to reduce dark circles and keep the skin looking firm and now I think I've found the best eye cream for aging!
REDEFINE Multi-Function Eye Cream
The REDEFINE Multi-Function Eye Cream from Rodan + Fields was recently relaunched, and I am so excited to have it in my morning and night skin care routines. This eye cream is heavenly for hydration and for me, has helped the skin around my eyes look more firm. I love that it's appropriate for AM and PM use, so I don't need a separate product for both. You can expect about 120 applications (60 days) from each jar, so the value is amazing.
R+F carefully trialed and tested ingredients and formulas to find what works well together for the best results. This new + improved Multi-Function Eye Cream contains grape seed extract and daisy flower extract; these are light ingredients that don't sit in the pores. If an ingredient can't be absorbed it can cause damage and irritation. Grape seed extract and daisy flower extract further minimize the appearance of lines and wrinkles while nourishing the skin for that brighter appearance. Sharing more about my experience below! But let me introduce….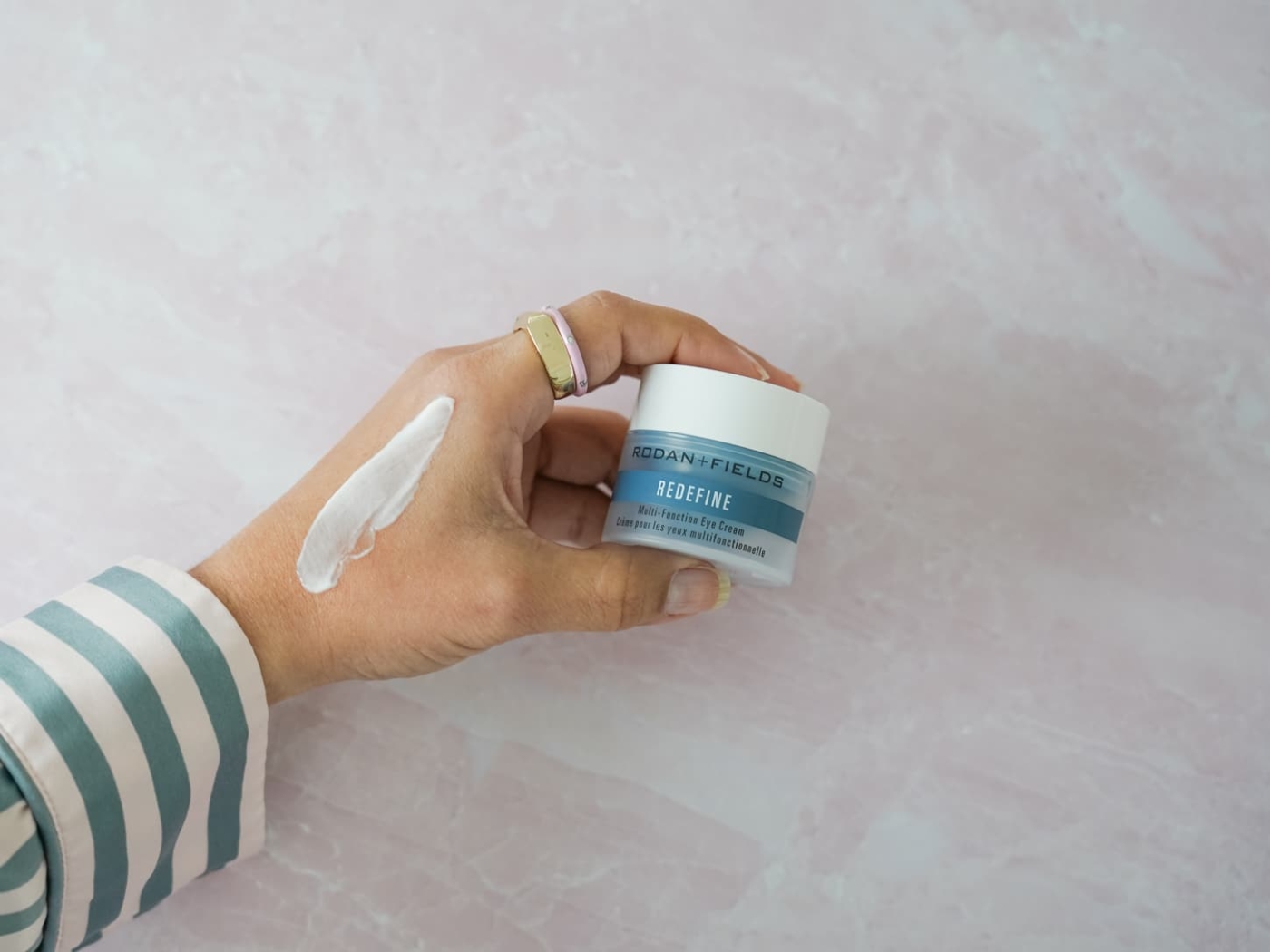 RODAN + FIELDS, A Dermatology-Inspired Skincare Brand
Rodan + Fields is the one of the leading skincare brands even though they've only been on the market for 20 years. It is founded by two female dermatologists, Dr. Katie Rodan and Dr. Kathy Fields, that, as they say it, are on a mission to breathe confidence back into people's skincare. They prioritize effective ingredients formulated together and deliver the best results in comprehensive skincare routines they call Regimens. R + F always has great ingredients for a great price and they also make sure their product is effective and shows results through testing and research before they put it to market. Research is everything! This relaunch shows that they are always working to improve and have the best products. I love the R + F fam and their mission!
Vitamins and Antioxidants in Skincare
There are so many good ingredients in this eye cream, but I want to highlight a few that you've probably noticed in other skincare products you have too. We'll discuss why they are used, specifically Vitamin C, Vitamin F, and other antioxidants.
Vitamin C benefits skin by promoting collagen production and can help reduce redness and inflammation in the skin. Collagen is supportive in keeping skin tight and firm.
Vitamin F is not a single vitamin at all, but refers to fat aka healthy oils. Vitamin F brings major hydration properties and helps to restore the skin barrier. This barrier then protects the skin and reduces acne in the skin. Don't be afraid of oils in your products, even if you are on the oily side. Drinking water also helps so much with your skin's hydration but Vitamin F application is more of a targeted hydration because the rest of your body also needs all the water you are consuming in a day.
Thirdly, antioxidants which are going to support in minimizing dark circles and puffiness. Between these 3 ingredients you already have your multi-function properties covered! Knowing what is in your products is so important, your skin absorbs a lot of what you apply and there can be adverse effects from this.
Eye Skincare Without Breaking the Bank
I would say you can't put a price on your health but let's be honest, everyone does. Multi-Function Eye Cream really is affordable, especially because of the quality of the ingredients. Taking care of yourself starting before major issues arise gives you a better chance of maintaining that beautiful, youthful-looking skin you already have. Eye care is very important because your eyes are such an expressive part of your face, but with that the skin around can become stretched and damaged. There is no need to suppress your emotions for the benefit of your skin though! Smile, frown, cry, express every emotion and then take care of yourself and look radiant.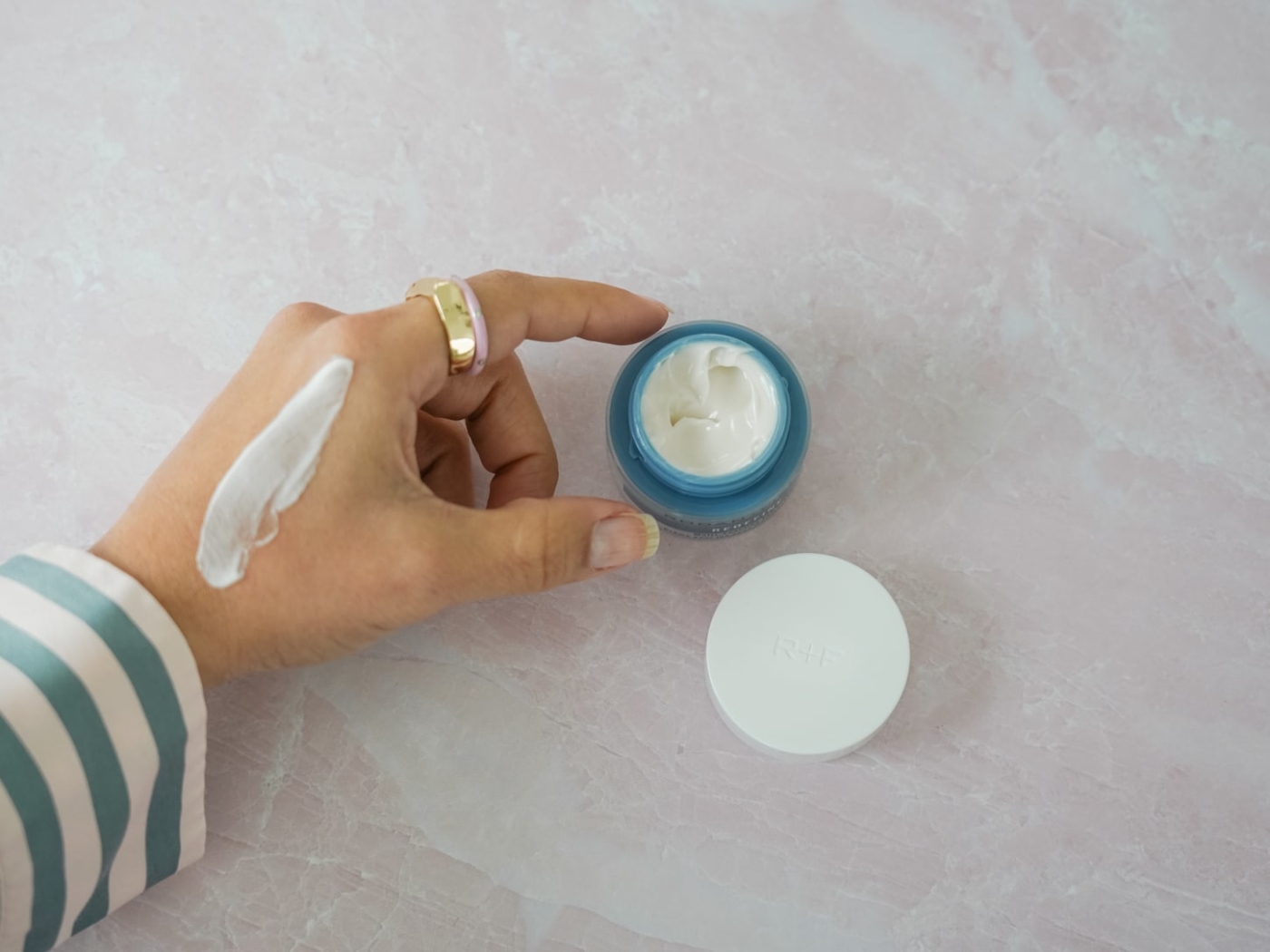 My Experience and Results with R + F REDEFINE Multi-Function Eye Cream
I've been using the eye cream for a few months and can only preach about it, like I have in this whole post haha! My first impression was "okay, let's see what this little jar can really do!". It goes on super gently and is a soft cream. The scent is minimal, why would we need a strongly perfumed eye cream anyway? I only need less than pea size amount to spread under both eyes.
I started to see results around the 1-week mark, I first noticed the brightness in my skin and then the firmness. This was with consistent morning and night applications. The jar lasted the full 60 days and you better believe I'm into the next one. It was so satisfying to commit to ONE product and see results. I didn't think too much about my crow's feet until I started this little experiment but now, I notice the area is definitely smoother and tighter. I definitely see a reduction of fine lines and puffiness under eye as well.
Pro Tip:
Use your ring finger for application, it is proven to be the gentlest touch out of all your fingers. Always smooth up and out so you aren't pulling your skin too much.
The REDEFINE Multi-Function Eye Cream gets my stamp of approval because I have seen personal results with it and there are clinical results to back it up. It is available to you through the R+F website, or through any Rodan + Fields Independent Consultant. These consultants work hard to grow their at home business so if you know someone, make sure you support them!