Bali Travel Guide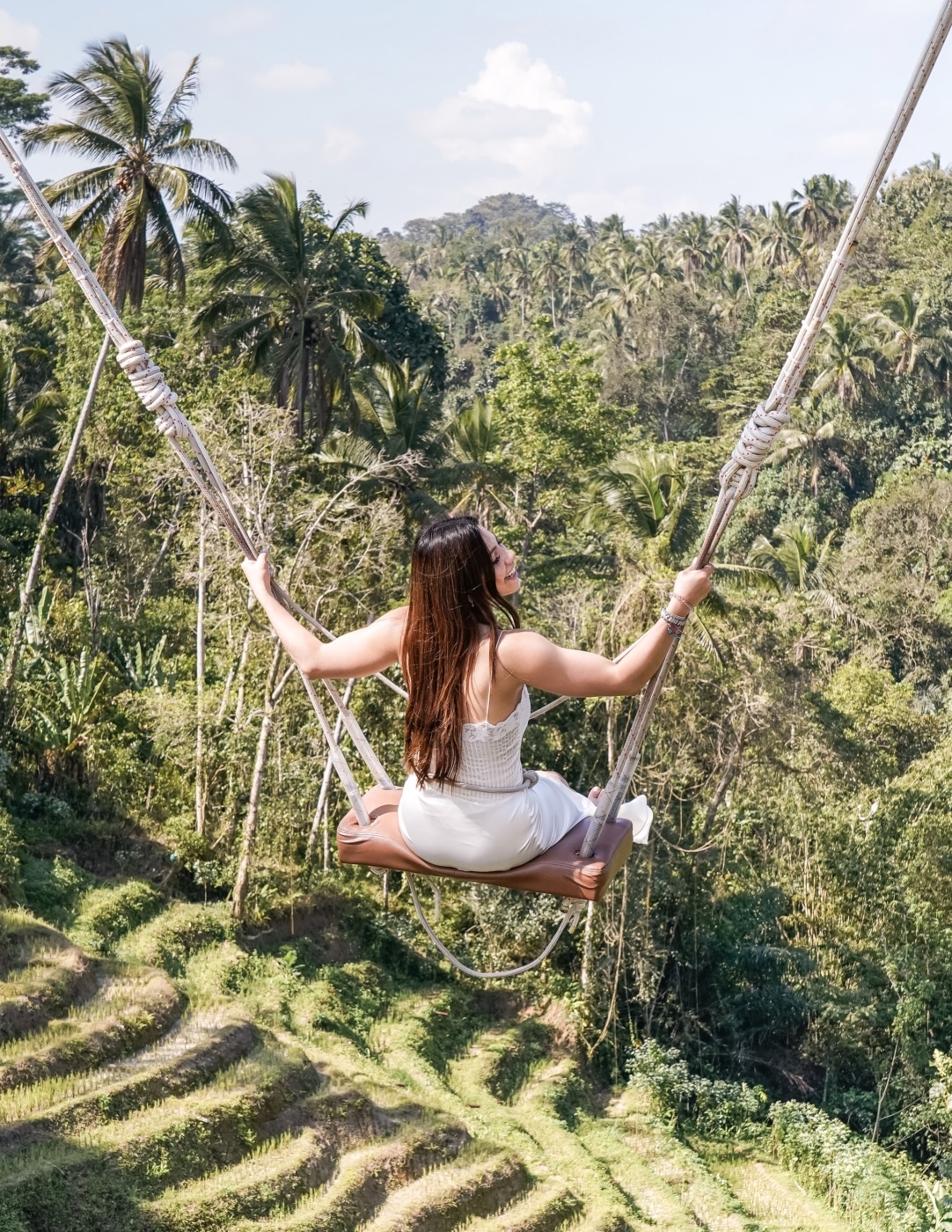 I
think it's safe to say that we found paradise on earth… That's how we feel about visiting Bali.
It exceeded our highest expectations and I can see ourselves going back there every year. It's that good!!!
I know many of you have been asking about our trip to this Insta-famous island, so I decided to write this travel guide for all of you that are planning to go there…
… and if you're not planning to do it… YOU SHOULD!!! You won't regret it!
Let's start with the traditional side of Bali…
Ubud
We went to Ubud three times and it's no secret that this is perhaps the most interesting side of Bali if you're looking to get in touch with its culture and find your inner peace.
These are the places we went to:
Ubud Palace (Puri Saren Agung): Built in the 18th century, Ubud's most famous palace is definitely worth a visit.
The palace was the official residence of the royal family of Ubud hence the beautiful and well-preserved Balinese architecture.
It serves as a cultural repository of arts, dance and literature. The palace's stage and meeting halls host international events, including the opening ceremonies of the annual Ubud Writers and Readers Festival.
**It's free by the way, you don't need to pay an entrance fee.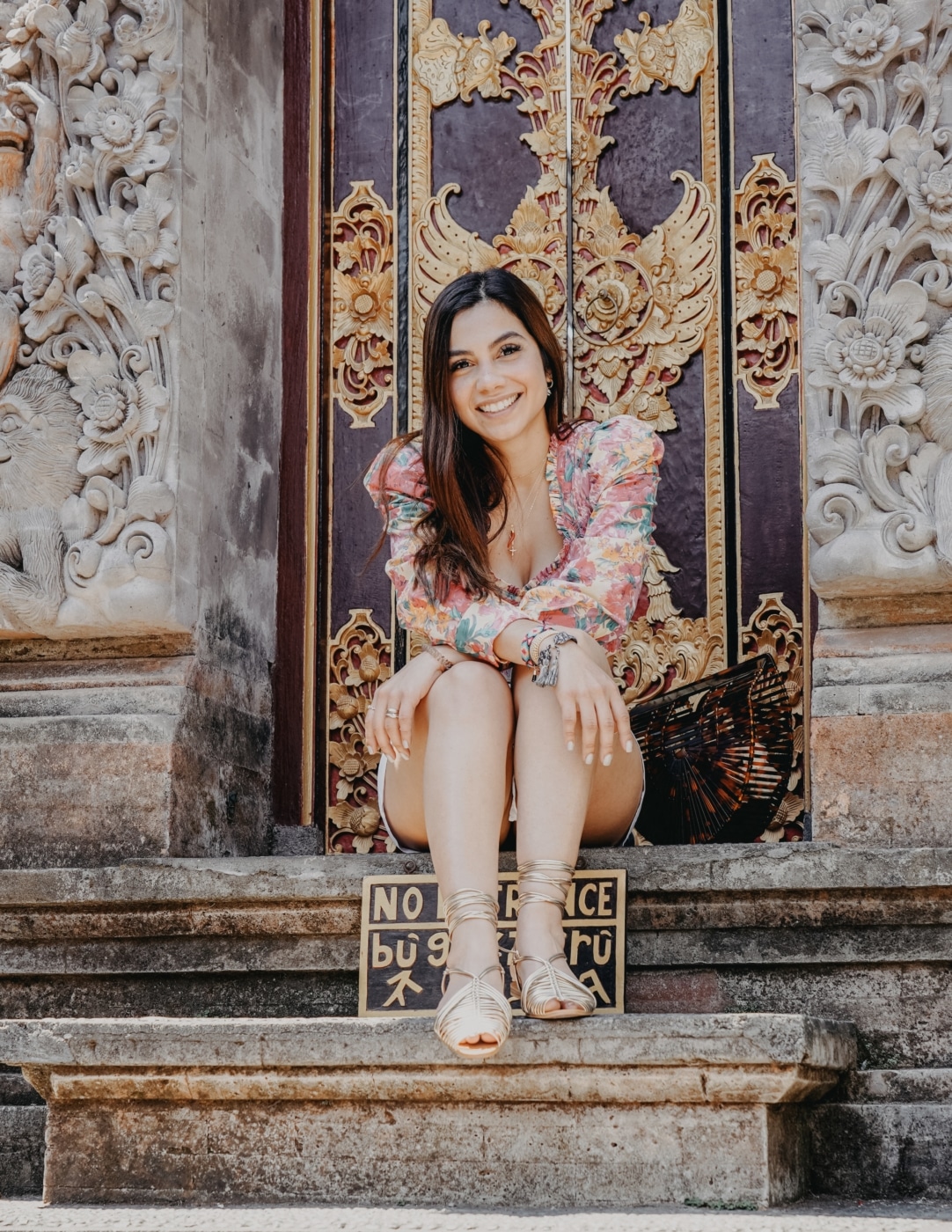 Ubud Market: This market boasts the best of Ubud arts & crafts. Most of the goods found in the market are made in the neighboring villages of Pengosekan, Tegallalang, Payangan and Peliatan.
Its strategic location ~ opposite the Puri Saren Royal Ubud Palace ~ makes it the perfect shopping place for Balinese handicrafts and souvenirs.
You can find everything from silk scarves, hand-woven bags and statues to huge assortment of handicrafts. I scored two beautiful statement rings!
The market is pretty big, so visiting all the stalls usually can't be done in one day.
Something else… negotiation is part of the shopping experience… In fact, everybody does it, so it's the perfect place to practice your haggling skills!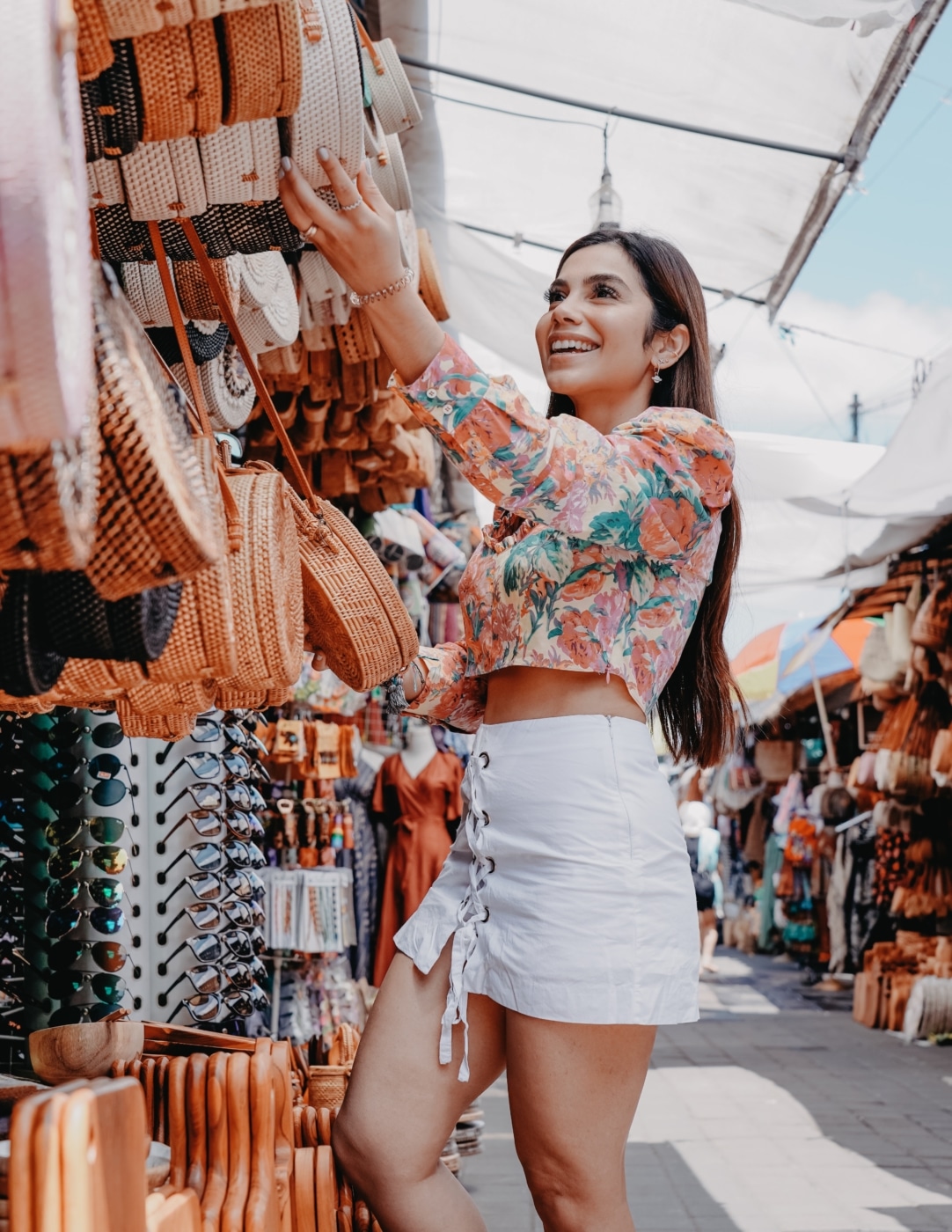 Tegalalang Rice Fields: These rice fields are breathtaking. I'm pretty sure you've seen these online because pictures of them have been popping more and more lately on social media.
They're located in the center of the island, just 20 minutes away from Ubud. The rice fields are a series of rice paddies famous for its terraced layout. It's a traditional Balinese irrigation system known as subak.
The scenery is beautiful so make sure you have your camera ready.
Also, the sunrise here is one of the most beautiful sunrises you can experience in Bali. To get to the points where you can watch it in full splendor, you will need to pay ~50,000 IDR (around $4 USD).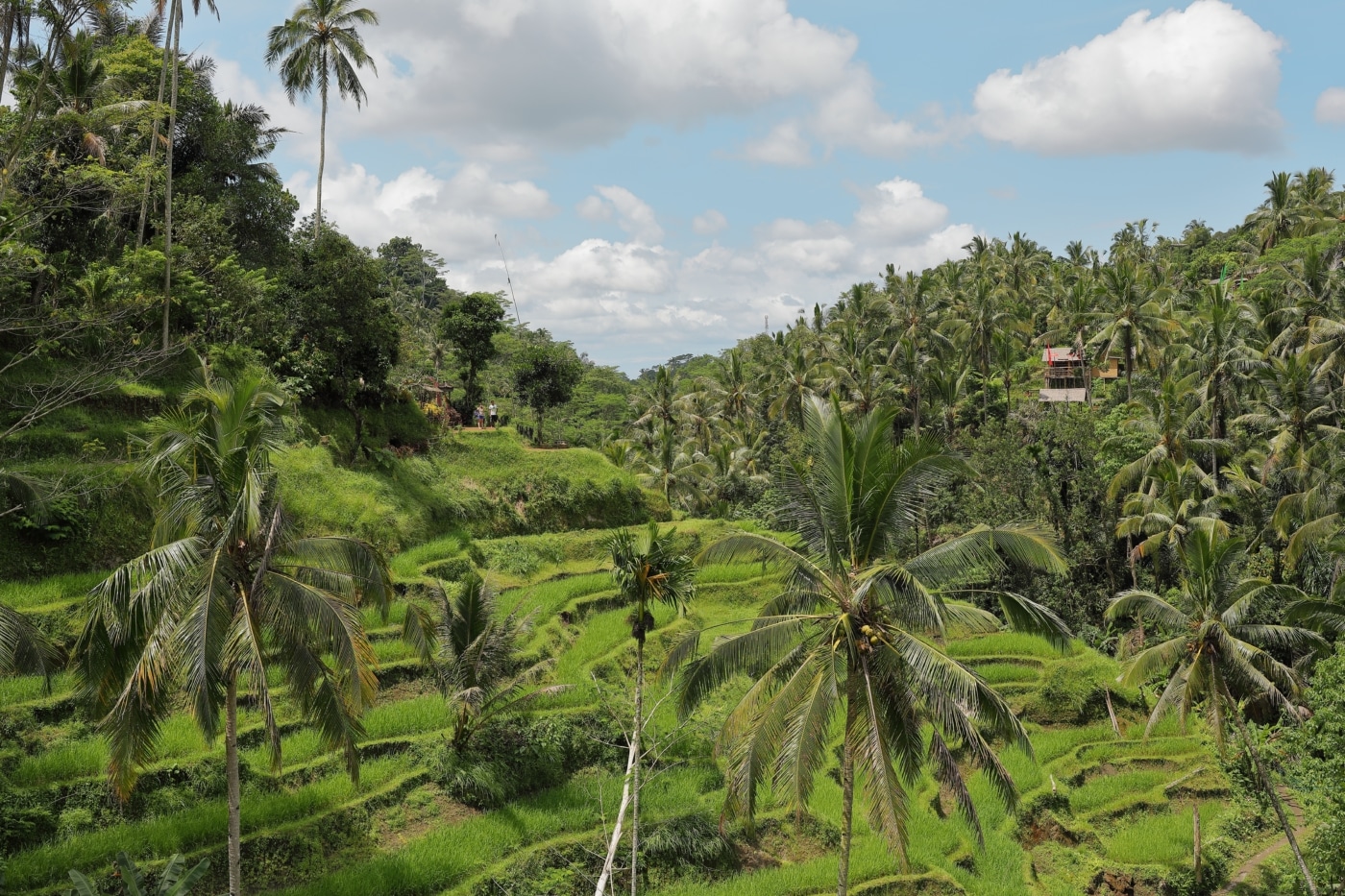 Tampaksiring Siring Palace: it's one of 6 presidential palaces of Indonesia.
Here you can find a holy spring which bubbles up in the inner courtyard of the temple, and it is believed to have magic curative powers.
This sacred spring attracts crowds of people who visit the special bathing pools.
**It's free, you don't need to pay an entrance fee.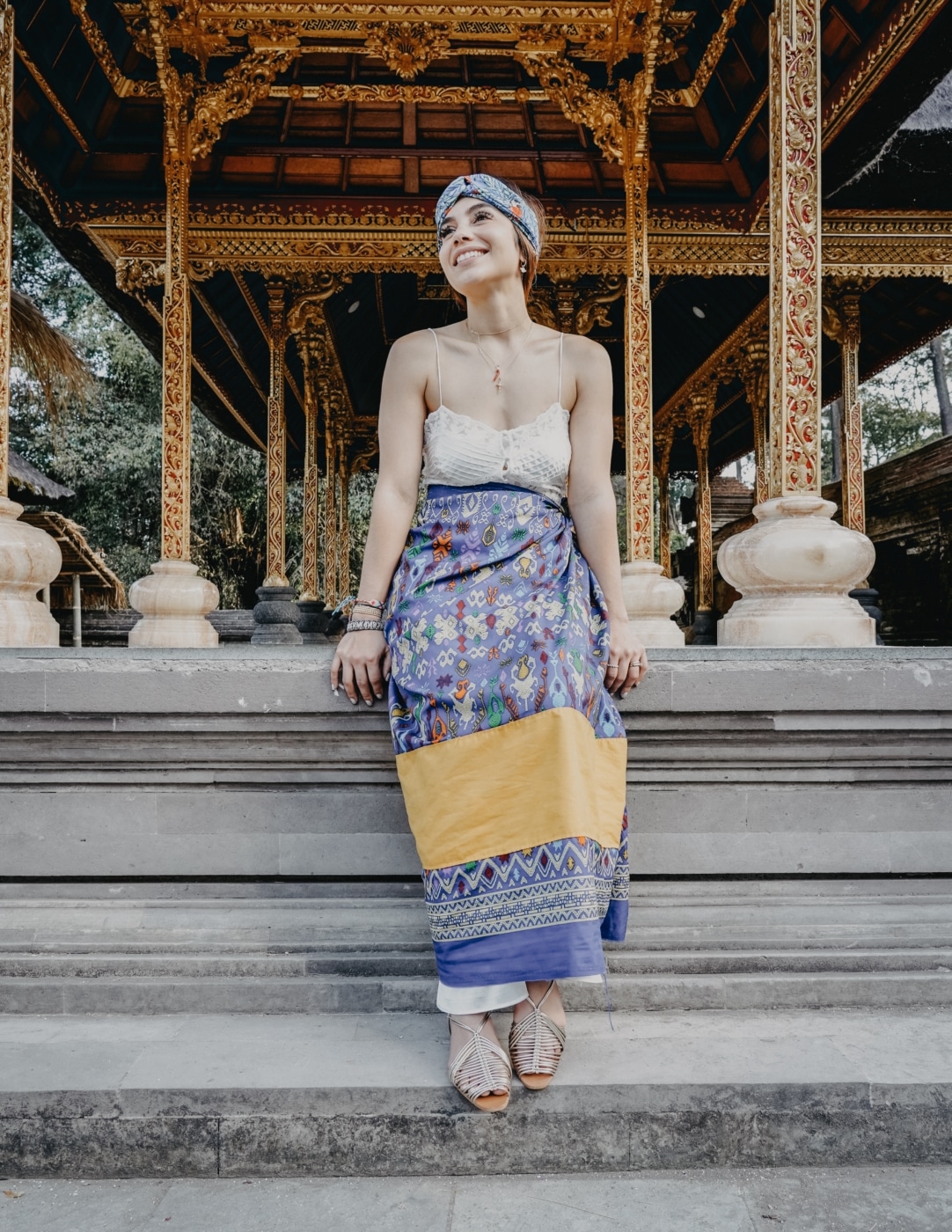 Bali Swing: Have you ever swung over an abyss of tropical forest?
Well, I did it and it was an unforgettable experience + the perfect Instagram spot 📸
If you're planning to visit Bali, playing on a swing SHOULD be on your bucket list.
There are many of them in Bali and they all offer amazing views.
We went to Aloha Ubud Swing and they not only offer the swing experience, but they also have the famous bird nests you've seen all over social media (like the one pictured here).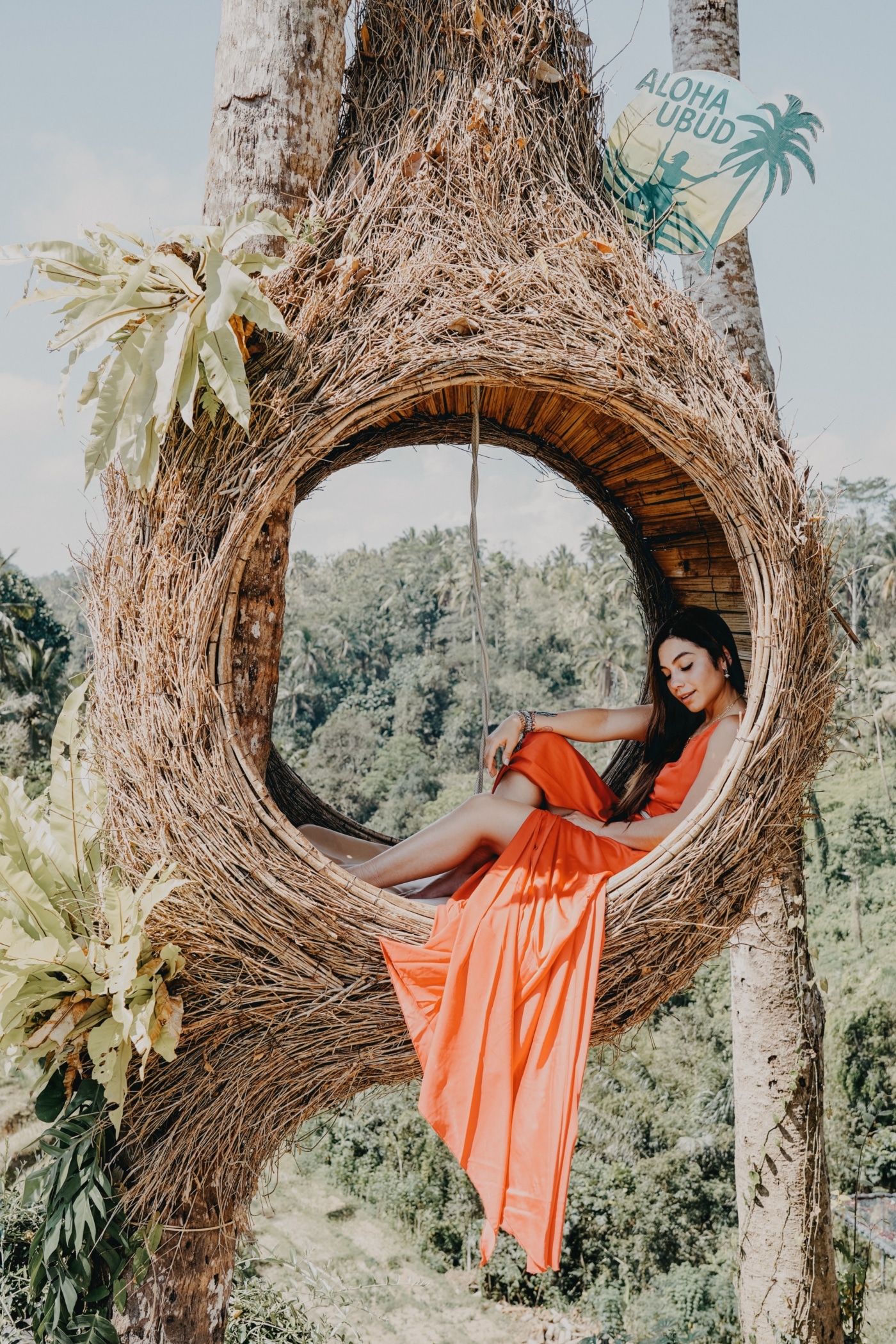 They have different types of swings, bird nests, and even a boat in the sky. Once you get here, you need to choose a "package," which means your entrance fee would depend on the type of swings and nests you want to visit.
Uluwatu
After we explored the traditional side of Bali, we wanted to go to one of the best beaches in the island and Melasti Beach in Uluwatu was highly recommended by locals.
Melasti Beach: This is one of the top beaches in Bali and now we know why.
It's absolutely beautiful with golden sand and crystal water… It's like a snippet of the Philippines in Indonesia.
It's not very touristy (which is great!) and it's about one hour from Canggu or Seminyak.
When you're heading down to the beach, you'll find a cliff with a gorgeous view. I highly recommend pulling over and enjoying it for a few minutes.
Many locals will be there taking their wedding pictures because of the amazing view!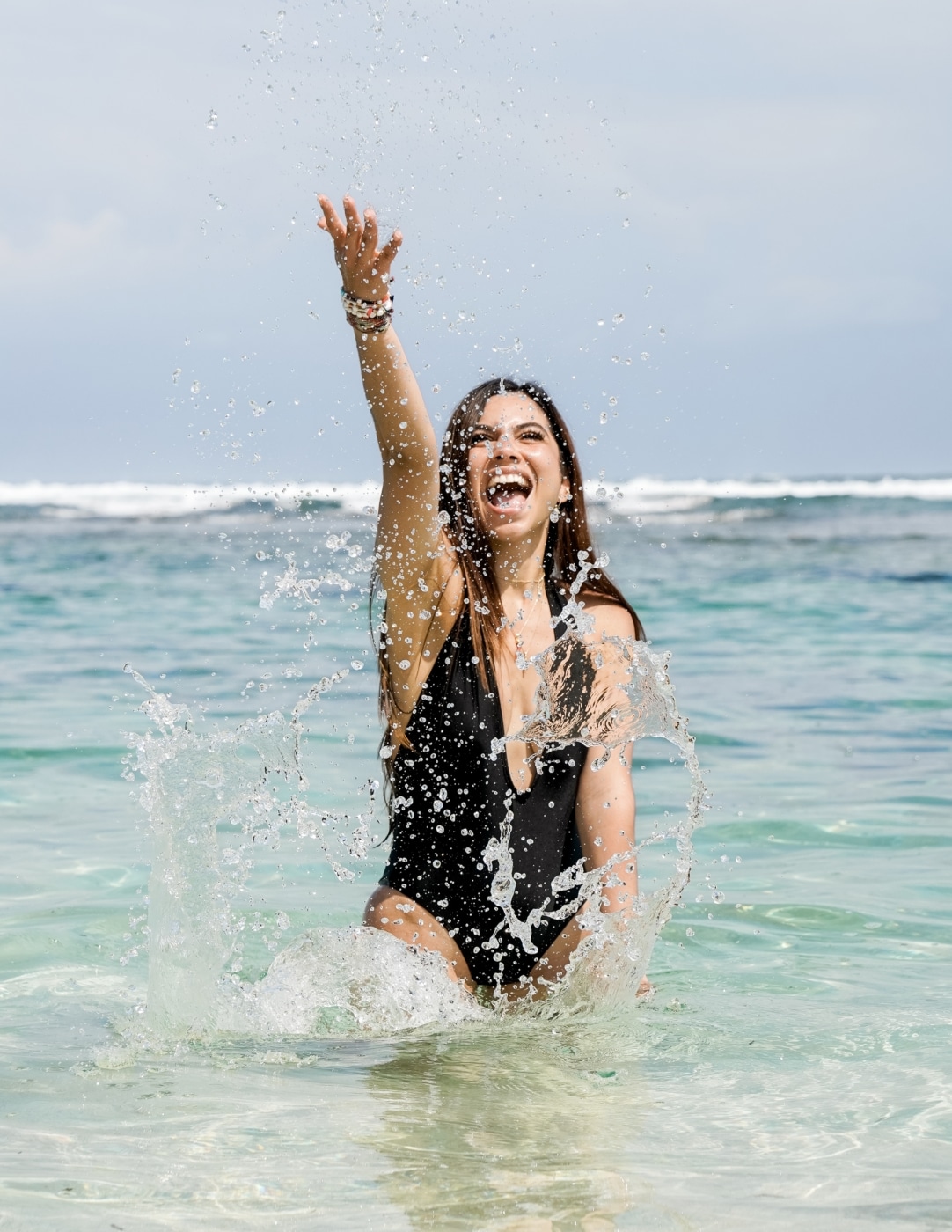 Seminyak
This is where we stayed most of the time.
We chose Seminyak because we were looking for a stay packed with relaxation with a good side of fun and this is exactly what this town has to offer.
Seminyak is Bali's most sophisticated and upscale beach resort area with excellent nightlife, beautiful beaches, gorgeous views, great restaurants, cool cafes, and chic bars.
We really loved our experience here. The town is super fun and offers a lot of different things to do.
We used Seminyak as our home base and from there, we visited different parts of the island including Ubud, Kuta, Uluwatu, Melasti Beach, and several beach clubs (details below)
And even though we stayed in Bali 14 days, we feel we needed more time…
Yes… It's that good!
Horseback Riding by The Beach: This was one of the most surreal experiences of my life and we highly recommend it.
Our hotel staff set everything up for us and they used Kuda P stables which have a very good reputation in Bali.
We had so much fun riding our horses by the beach. It was indeed a priceless moment!
The people at the stables take so much care of the horses… they all looked super healthy and happy.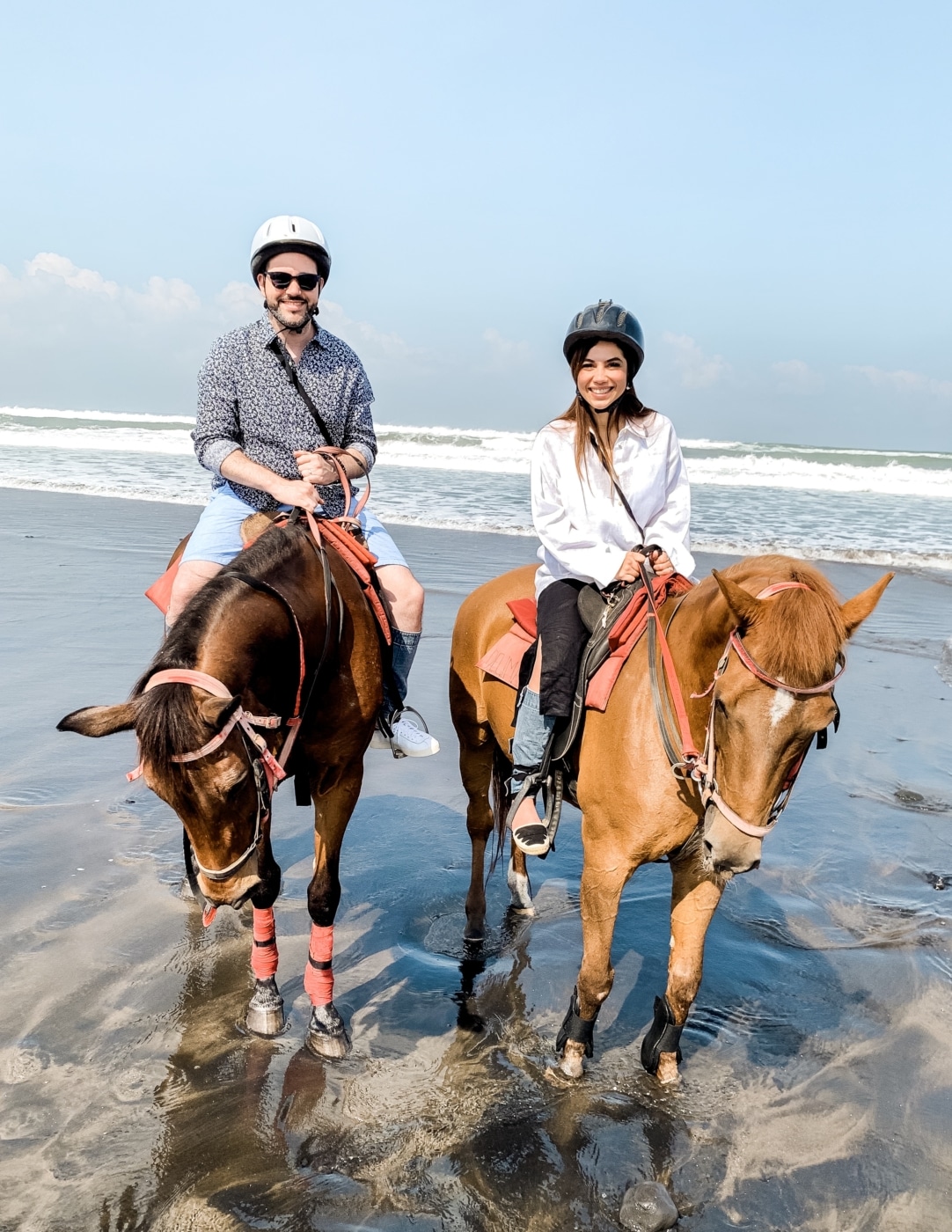 Beach Clubs
If you're in Seminyak, you've got to try their world-class beach clubs… here's our take…
Potato Head: This club is so much fun and it offers a breathtaking sunset view.
Drinks are great and food is good as well. It has four bars, fours restaurants, an infinity pool and large lawn overlooking the Indian Ocean, hence the amazing view.
But don't get fooled… even though this place sounds like it's huge ~ which is true ~ it gets packed fast, so I recommend heading there early so you can get a good spot.
Finns VIP Beach Club: This beach club has it all… bars, restaurants, pools, an infinity pool, clubs with great DJs, and even a huge lawn with puff seats and tables to enjoy the stunning sunset.
The service, food, drinks and ambiance are top notch in this club.
If you want even more, go to their VIP section and receive a VIP experience… highly recommended!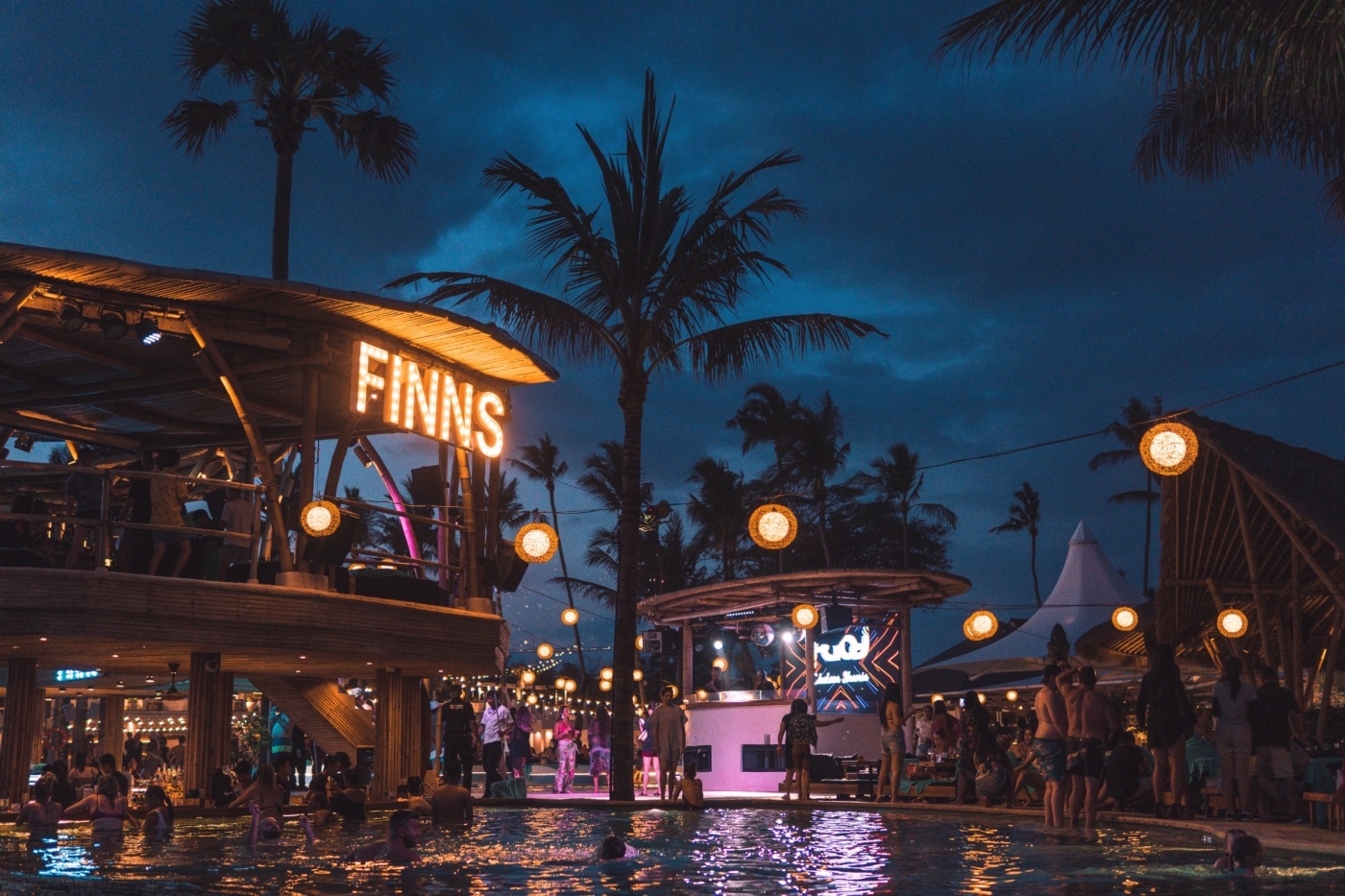 Restaurants
Mauri: an amazing Italian dining experience with a touch of tradition where all the ingredients are local and seasonal, which means the menu varies each season.
We went twice because we felt in love with this place. The service, the drinks, but especially the food were absolutely amazing.
** They're only open for dinner
Street Boi: Oh boi, oh boi… food is good here. You can find many Asian favorites on their menu buuuut we fall in love with the bao buns (sooooo good!) and the Nasi Goreng (traditional Balinese fried rice).
Sea Circus: This is a pretty cute restaurant, cafe den, and cocktail bar. Their menu is huge and they have tons of gluten free and vegan options.
Merah Putih: It's an upscale Indonesian food restaurant that we visited twice.
The place is absolutely stunning, even the bar area is beautiful and chic.
Drinks were great but the food was the star of the show. Wow, wow, wow! Everything was delicious.
We ordered a bunch of different plates each visit because they encourage family style eating, which means sharing food… think Indonesian tapas!
Settimo Cielo: A rustic, refined Italian restaurant. Food was incredible and the drinks were a hit.
Andy loves a good Manhattan and they offered a very refined version of it… Safe to say he was over the moon with his drink.
Dough Darlings: OH EM GEE! If you're planning to go to Bali, you need to visit Dough Darlings.
This is a handcrafted artisanal doughnut place and the doughnuts are to die for… even better than here in the US… #pleasecometohouston
Revolver Espresso: This is one of the most popular bars/cafes in Bali, so we needed to try it.
We didn't have food there except for some marinated olives that were very yummy.
We ordered some drinks and they were great. It's a good place to spend some time before heading to dinner or while shopping.
Seasalt: Open kitchen, the ocean as your backyard, cozy décor… this seafood restaurant couldn't be more romantic.
Eating here is a 5-star experience… The way they present the food, the flavors, the ambiance, everything… Highly recommended!
And yes, food and drinks were superb.
Tempted: They offer a combination of tapas and Italian dishes and they're known for their pizzas. Food and drinks were okay… Nothing special, to be honest.
Mad Pops: We stumbled upon this ice cream shop without even knowing it was one of the most famous Instagram spots in Bali… yeap!
Surprisingly, I didn't know anything about it.
We loved that all their products are locally sourced and consciously created + they taste delicious and their neon sign (and branding) is super cute.
It's definitely a nice place to stop by if you're in Seminyak.
Flat Stanley: From sharing boards, salads, and small plates to pizzas and seafood… they had something for everyone.
We had three small plates (the octopus was delish!) and two flatbread pizzas and everything was great. Drinks were good too.
Nice place to visit at night.
**For pictures you can check my Bali story highlights on my Instagram account @paosfitworld
Hotel
Something great about Bali is that you can find amazing hotels at great prices.
We stayed at Equilibria Seminyak and we can't recommend it enough, especially if you go with your loved one.
From the amenities, the food, and the service to the super friendly staff, everything was outstanding. We didn't want to leave.
We stayed in a two-story villa with a private pool and a waterfall in front of our bed… absolutely surreal experience!
We even had a butler who took care of us + all of our requests 24/7 in the most attentive way.
Having this kind of "royal" treatment is not that uncommon in Bali where people go above and beyond to serve you in the most genuine and friendly way.
The hotel offered tours, cooking classes, transportation, and a sublime spa which was one of the best we've ever seen.
Also, its location is super convenient because you're central to everything you need in Seminyak including two of the most famous night clubs… La Favela and Red Carpet.
Despite its central location, the hotel is almost hidden on a side street next to the main road, so once you're inside, everything is quiet and perfect for relaxation.
As you can see, we looooved our stay in Bali and we can't wait to go back.
We plan to visit this island as much as we can in our lifetime because it's truly a paradise on earth.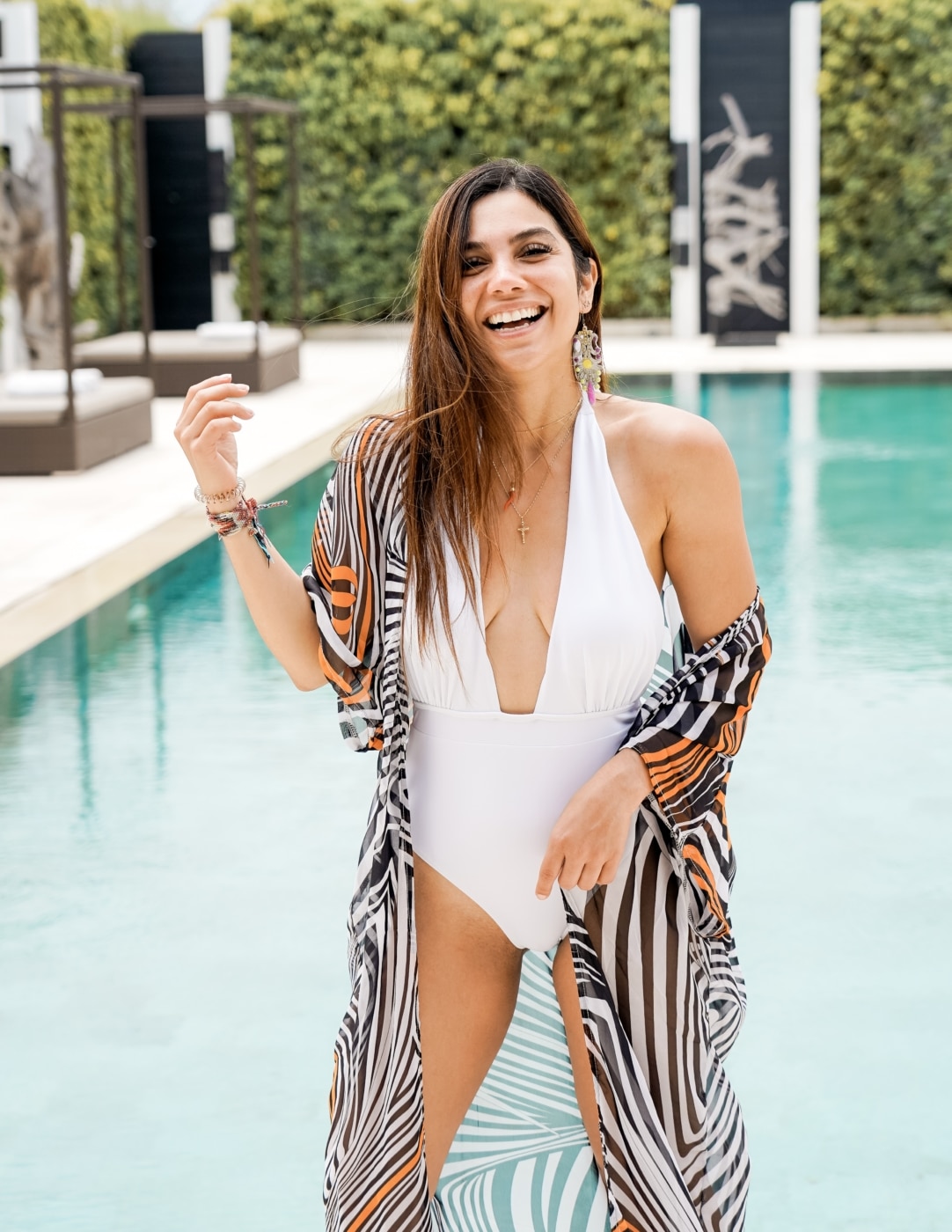 Hope you've enjoyed this guide and let me know in the comments if you're planning to visit Bali anytime soon or if it's on your travel wish list.